Sydney's trusted School Holiday Sports Camp provider for over 15 years, Sydney Uni Sport & Fitness Sports Camps provide families with safe, supportive and inclusive environments for their children and young athletes to take part in sport and physical activity.
We offer tailored camps in the form of Cubs Club (aged 5-12 years) and Sports Clinics (aged 12-17 years). Children will be divided into age groups and then based on their ability level, within each of the camps.
We pride ourselves on the diversity of our camp delivery – employing effective coaches to lead with demonstrated experience in Sports Coaching, Teaching or Professional/Elite Sport. Our coaches are backed by Working with Children checks, first aid training and are equipped with the skills and awareness to manage young people and groups as required.
Prices start at $90 and vary according to the duration and specialisation of the camp. For the convenience of busy and working parents, we also offer a daily aftercare service at an additional cost. Discounts are available when booking multiple children.
Our January 2021 Sports Camps are all going ahead under current NSW Health Guidelines with COVID safety plans and restricted numbers in our clinics. Book your spot through the registration buttons below!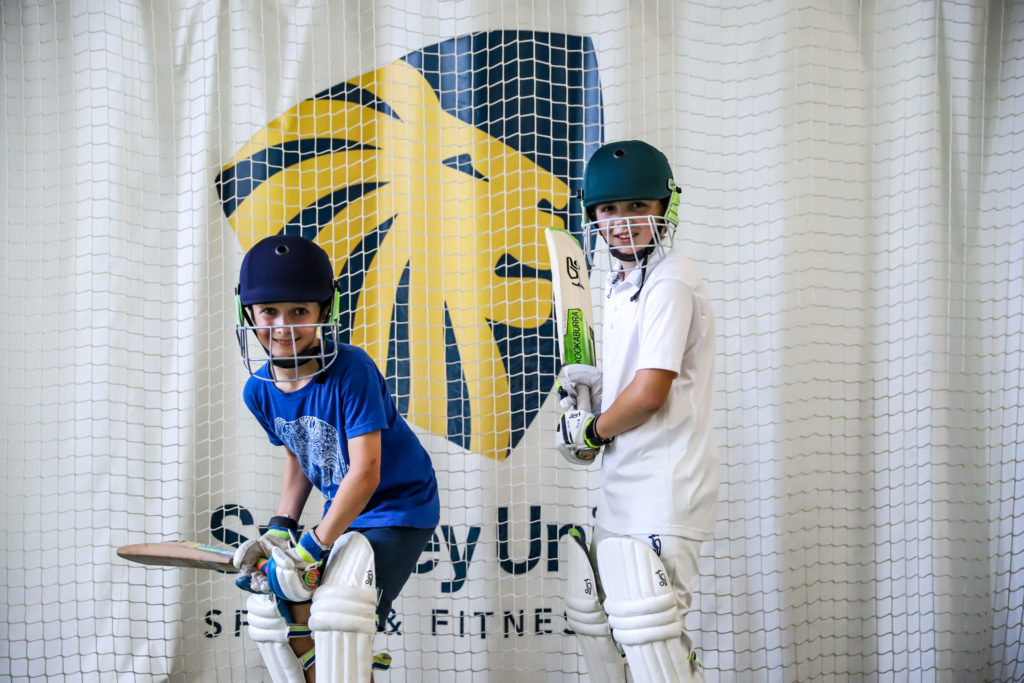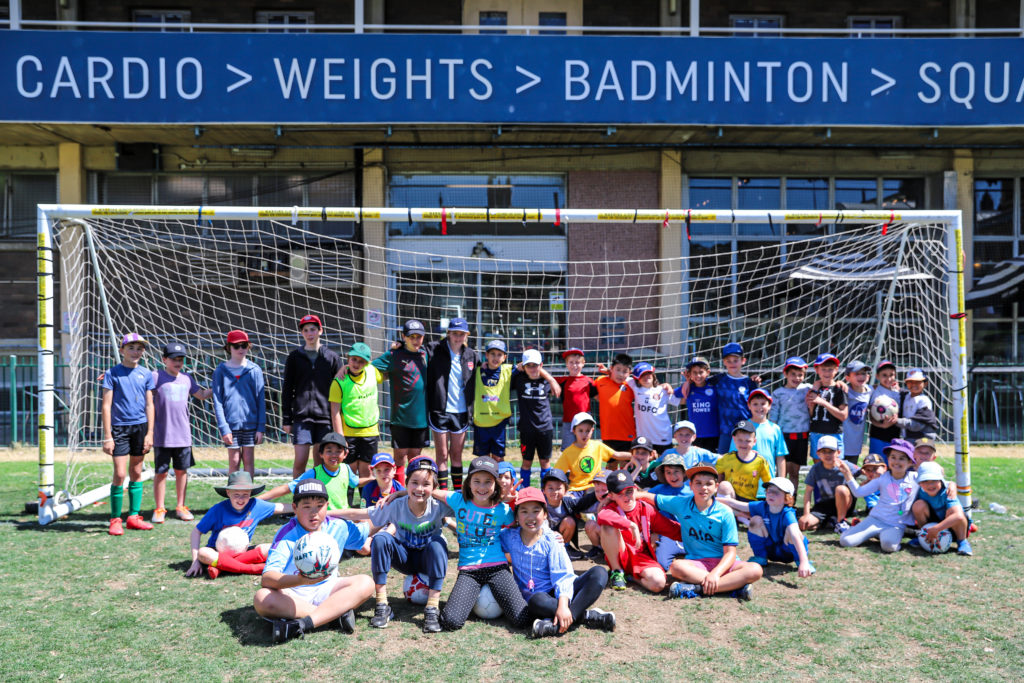 See full dates, sports and venues under the respective programs below.
(For children aged 5 – 12)
The Cubs Club program is for children aged 5 – 12 years old and is a program designed to help children sample a new sport, develop their skills in a sport they are already passionate about, extend their fundamental movement and sporting skills and meet new friends in a safe and inclusive environment. Summer timetable coming soon.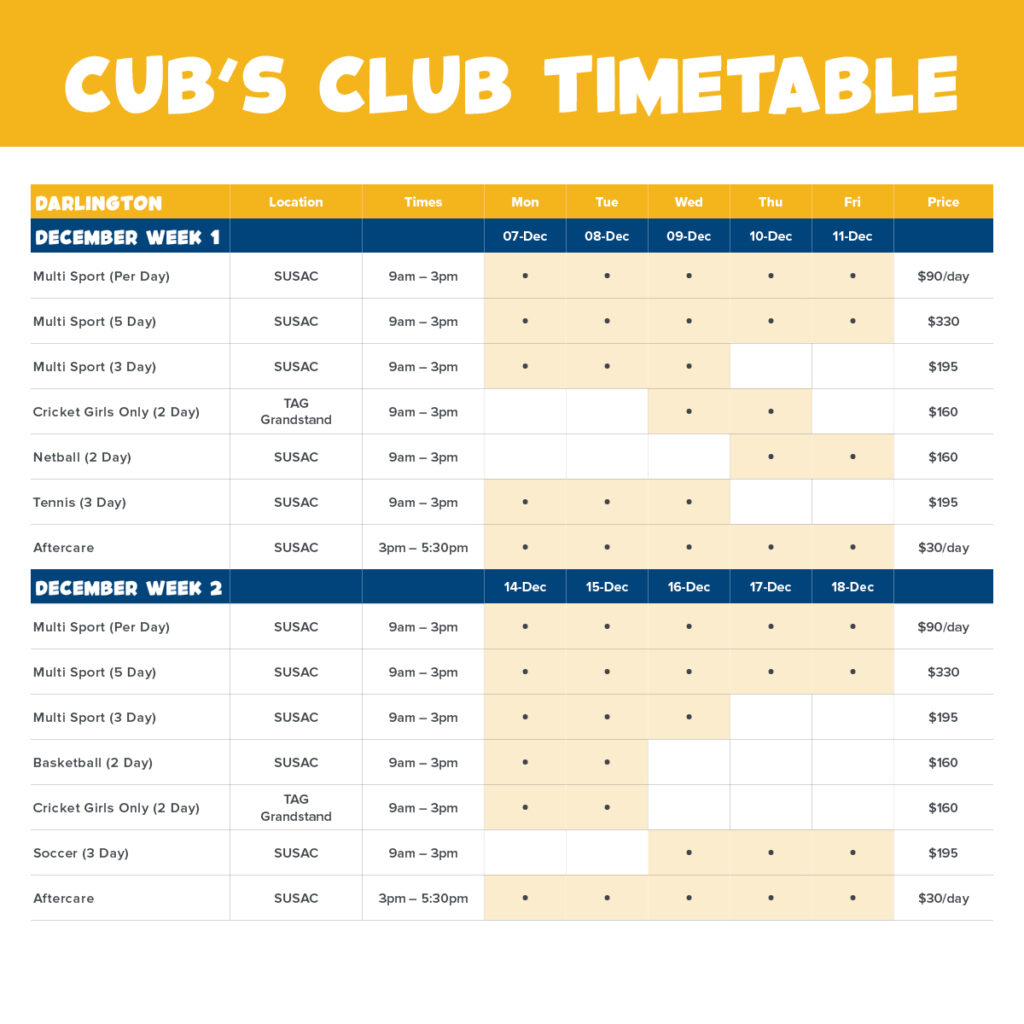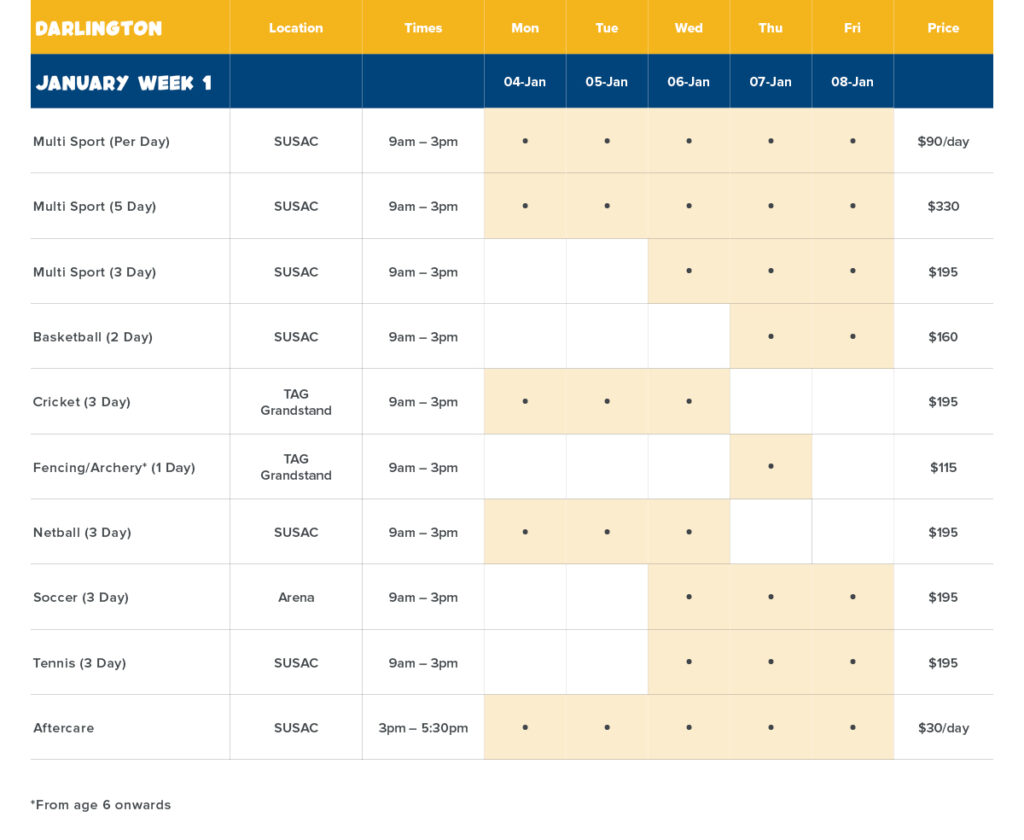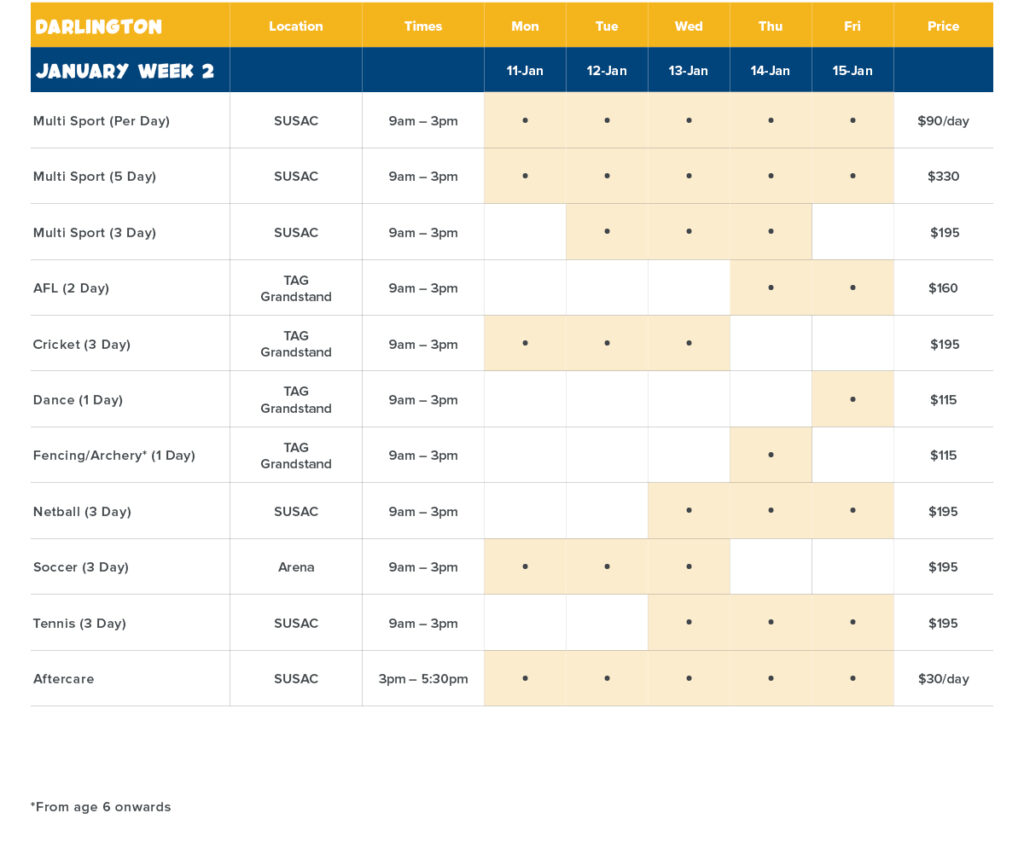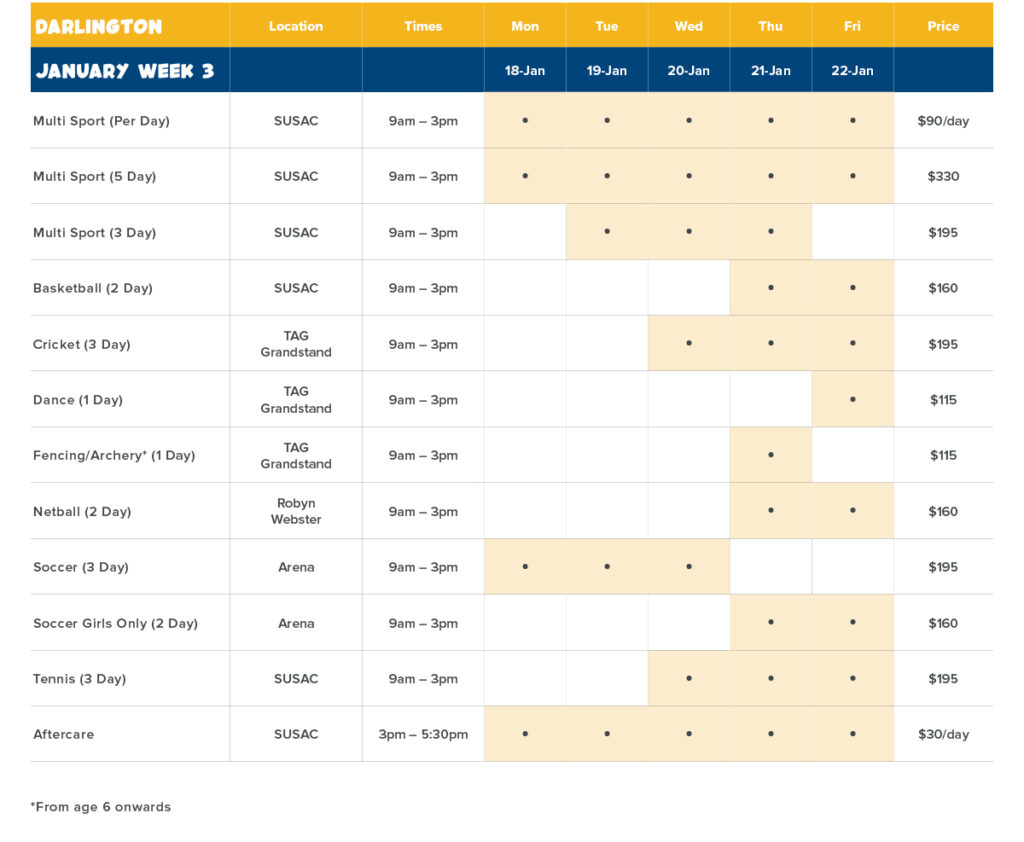 (For young people aged 12 – 17)
SUSF's Sports Clinics are for young people aged 12 – 17 years old and is a program for young athletes of all sporting abilities to develop a keen interest in a new sport or to practise and refine their skills in their current sport of choice. Summer timetable coming soon.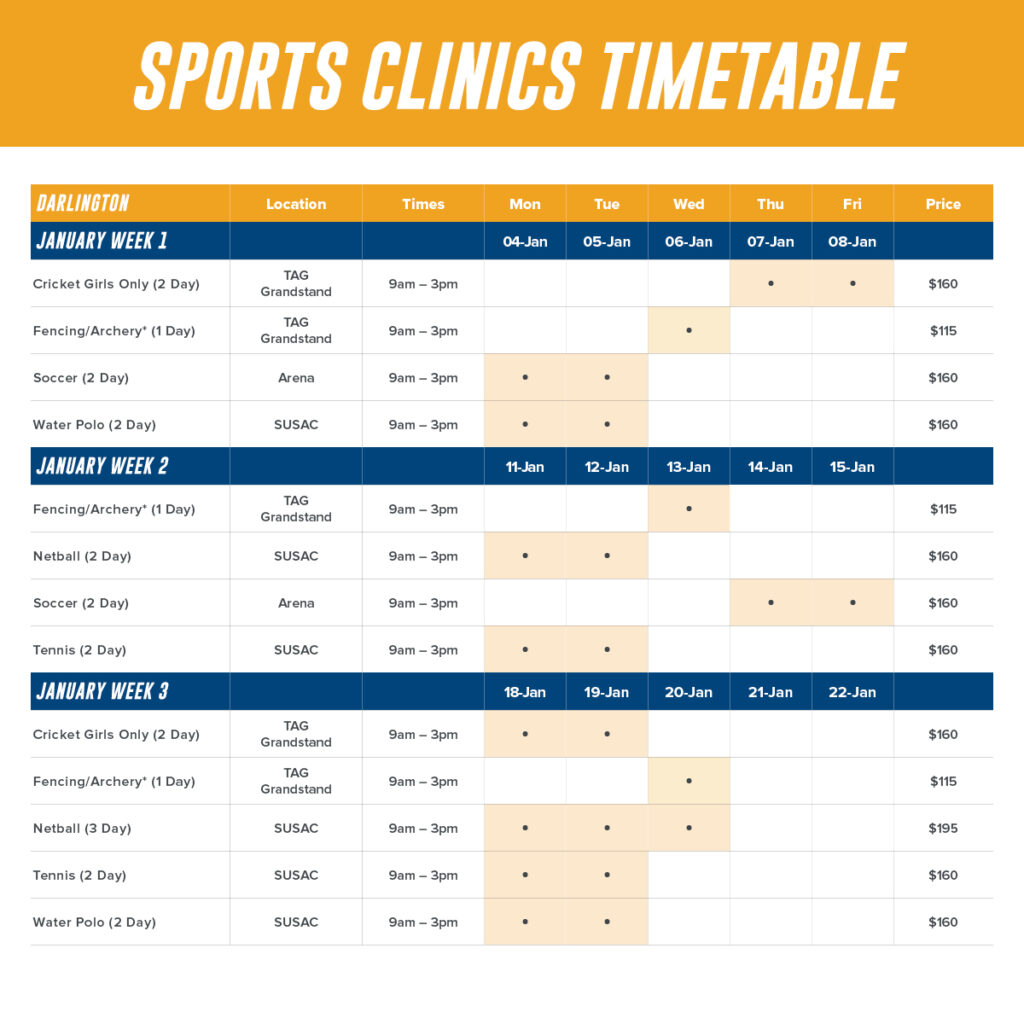 Our Clinics have a key focus on skill development including batting, bowling, ball-handling techniques, wicket-keeping and team positioning, running techniques between the wickets and match-play scenarios.
Participants will have access to some of the best cricket facilities in NSW. The camps will be held at TAG Grandstand, Sydney University, all details can be found in our Program Specific Information under Cricket Program.
Our professional coaches will challenge, excite and engage you to improve your skillset.
Each Clinic includes a strength and conditioning focus plan. All our school holiday programs have indoor facilities  – you can be sure your program will run rain, hail or shine!
Proudly Supported by UWCC (Universities Women's Cricket Club)
December 2020 (2 Day Camps) – $160
Age: 10 to 15 years  Time: 9am to 3pm drop off from 8.15am Venue: TAG Grandstand, Sydney University, Camperdown
Week 1: Wed 9th Dec – Thur 10th Dec
Week 2: Mon 14th Dec  – Tues 15th Dec
January 2021 (2 Day Camps) – $160
Age: 10 to 15 years  Time: 9am to 3pm drop off from 8.15am Venue: TAG Grandstand, Sydney University, Camperdown
Week 1: Thur 7th Jan – Fri 8th Jan
Week 3: Mon 18th Jan  – Tues 19th Jan
Cub's Club (December)
Cub's Club (January)
Sports Clinics (January only)
Junior Short Courses
SUSF are offering junior short courses to children aged 6-15*. The courses are a perfect after-school activity to explore and try a new sport, have fun and meet new friends in a social and friendly environment.
Junior Tennis Coaching
Sydney Uni Tennis is an affiliated Tennis Australia Hot Shots provider and ambassador. Our program offers coaching to juniors from 3 years of age with gradual progression to improve their skills and prepare them to play on a full-size court.
Sydney Uni Swim School
Our swim school program is focused on providing children the opportunity to develop a strong relationship with the water by ensuring that participants experience the water in a supportive and fun environment. From learn to swim to our three-tiered squad program, Sydney Uni Swim School has something for everyone.
Sydney Uni Sports & Aquatic Centre
If you would like to be on our database to receive information regarding our school holiday program, please email [email protected]
Our Camps run at various locations across Sydney University's main campus. Please check the "program specific information" for the specific camp location.