Sydney Uni Swimming offers a unique swim pathway for our youngest learn to swimmers through to our competitive university team. We cater for all ages and abilities from Sydney's  inner west, south and eastern suburbs.
Our Olympic 50 metre indoor pool is located on the Darlington Campus of Sydney University, and is heated to 28 degrees.
We offer term based learn to swim lessons and squad sessions as well as optional holiday intensive programs throughout the year.
Assessments are free of charge, easy re-enrolment and regular progress reports are available via our Parent Homeportal. Two complimentary makeup sessions are available each term where vacancies exist.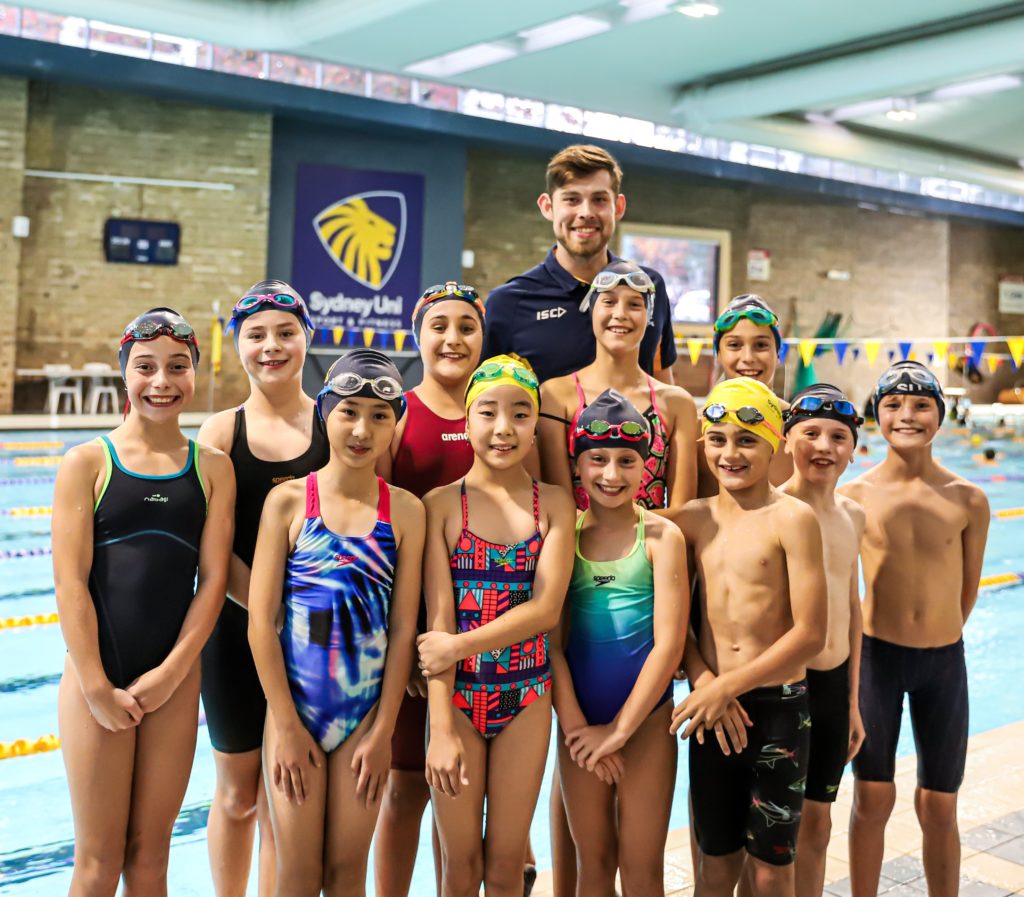 Our learn to swim classes have low student to teacher ratios to ensure maximum student engagement and quality practice time. Technical skills and Water Safety are the focus of our classes. Lessons are conducted in our heated 50m Olympic pool with warm showers and family change rooms available on deck.
All our instructors and coaches are qualified ASCTA/AUSTSWIM qualified, hold current CPR, and continue their professional development while employed by Sydney Uni Swimming. They are specifically chosen for their aptitude in teaching and their skills in helping swimmers build confidence in the water.
PRESCHOOL AND SCHOOL AGE LEARN TO SWIM 
Our swim pathway builds on previous skill competencies and incorporates Royal Lifesaving Australia Swim and Survive Water Safety skills. Students are graded regularly throughout the term with feedback and enrolment available through our Homeportal.
Sydney Uni Swimming offers a comprehensive range of classes for all abilities, from the inexperienced needing basic Water Safety skills through to Stroke development.
HOLIDAY INTENSIVE SWIM PROGRAMS

The Holiday Intensive Swimming Program (HISP) is a concentrated swimming and water safety program conducted over five consecutive days. They particularly useful for children who are either new to swimming, or need to master a skill so they can graduate to the next level. They are also a great alternative to swimming throughout the term for families with busy schedules.
COMPETITIVE & RECREATIONAL SWIM SQUADS
Our Squad Program caters for both recreation and competitive swimmers. Swimmers graduate from learn to swim lessons and  transition into our Mini, Development, Challenge and Swimfit 13+ squads.
Our Performance Squads cater for 8-18 year old swimmers who are committed to swimming multiple sessions per week and regularly compete for Sydney Uni Swimming at Area, Metropolitan, State and National competitions.
SYDNEY UNIVERSITY VARSITY AND OPEN SWIM SQUADS
This squad offers University Aged Athletes (18+) the opportunity to train with their peers in a competitive and non-competitive environment relevant to their goals and aspirations. We have National Scholarship athletes preparing for international competitions, through to former athletes continuing to train for fitness and wellbeing. One thing they all have in common, they all love the sport and see no reason why you cannot swim well into your 20's and remain competitive.
We encourage our swimmers from Level 5 as well as their swimming parents to to become members of the SUSC. Race  meets are run monthly. Our philosophy is to help to each swimmer strive for their personal best, and better prepare them for school carnivals, Area, State and National Championships and the Speedo Sprint Series.
Our Open and Varsity swimmers often attend these meets and provide excellent mentoring and inspiration for our developing swimmers.
Club meets are a low key, fun way to introduce swimmers to racing and provide opportunity for new friendships to be made.
Sydney Uni Sport & Fitness runs FREE Water Safety classes for University of Sydney students in Semesters 1 & 2, 2021
These sessions aim to teach students who have no or limited experience basic water skills, stroke and water survival skills in a safe and friendly environment.
SCHOOL SPORT SWIMMING AND WATER SAFETY PROGRAMS AND CARNIVAL MANAGEMENT
Sydney University Sport and Fitness is proud to offer professionally run, curriculum based programs with our same low teacher to instructor ratios. We understand that not all school children can swim, or might only have limited swimming ability. We also realise that some kids are excellent swimmers who need stroke development. Our program caters for all ages and abilities, from beginners learning water confidence, right through to squad swimmers developing their competitive skills.
Programs are offered in terms 1, 3 and 4 of the school year.
Sydney Uni Swimming can also run your Annual School Swimming Carnival. We can coordinate all your your event entries, create your program and facilitate the entire race day for you.
2022 – classes do not run on public holidays
Term 1        Monday 24 January – Sunday 10 April
Term 2        Monday 26 April – Sunday July 3
Term 3        Monday 18 July – Sunday 25 September
Term 4        Monday 10 October – Sunday 18 December
To ensure a fun, safe, and stress-free environment the following policy and procedures will be in place for Term 3, 2021 programs:
Hand sanitizing stations remain at entry and exits
Member cards required at all times – card self swiping and QR code check in
Return of entry and exit via swim programs reception door. Emergency doors now alarmed
Please, only one parent per family for children under 8.  10+ years squad parents, are asked to observe from outside of pool hall
Downstairs guest changerooms are now available for Swim Programs use.
Please, do not send your swimmer if they are have fever, cold, flu, persistent cough, nasal discharge.
Sorry, no free play before or after classes. SUSF is a lap and programs pool.
The NSW Government is helping kids stay fit and healthy with the Active Kids program. Parents, guardians and carers can apply for two $100 vouchers per calendar year to help offset the cost of sport programs.
From Dec 1, 2021 NSW Government is offering the new First Lap scheme, offering $100 voucher to children aged 3-6 affected by the COVID closures of swim schools.
Please forward the voucher to [email protected],along with your child's date of birth, at least 3 days in advance of your intent to enrol. You will be notified when the voucher has cleared, and you are required to make payment.
For further information and terms and conditions visit NSW Office of Sport – Active Kids.
For general enquiries, administration can be contacted on 9351 8735, via email on [email protected], or in person between 3:30pm – 6:00pm Monday to Friday and between 9:00 am – 12:00 pm Saturday and Sundays.
We ask that parents not approach teachers or coaches while they are conducting lessons. Our Swim School Receptionists or Deck Supervisors are ready to help with any enquires or concerns you may have. Squad coaches can be contacted via email to arrange an appointment to discuss any issues or concerns.
Click here for the Swimming Australia Behavioural Guidelines.
Free 1 hr parking directly outside Sports and Aquatic Centre
Paid parking area directly opposite Centre : $4/hr before 5PM, after 5PM and weekends free
Paid street parking $4 per hour Abercrombie St, and The Maze (off Butlin Rd)
Shepherd St Car Park (near Seymour Centre)
Sydney University Sports and Aquatic Centre, Cnr Codrington St and Darlington Rd, Darlington