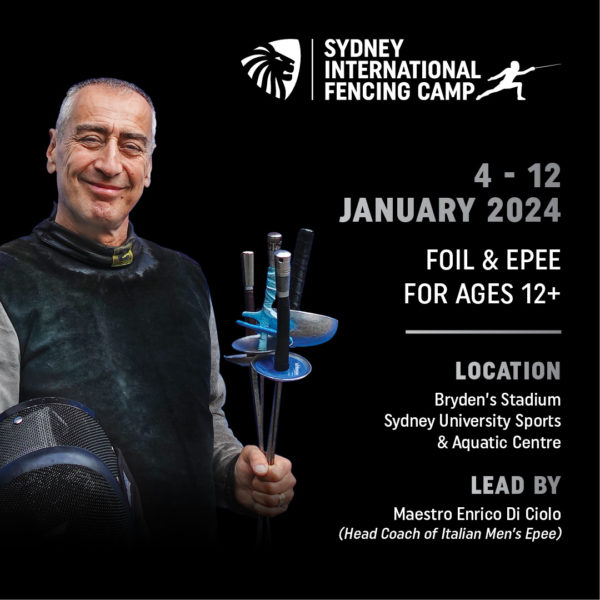 The Sydney International Fencing Camp returns in 2024 for its exciting second edition.
Designed for Foil and Epee fencers as well as Coaching Professional Development, this 8-day Camp, running from January 4-12, will be led by Maestro Enrico Di Ciolo (Italian Olympic Coach) and attract fencers from across the Oceanic Zone.
Serving as the perfect launchpad for the season ahead, fencers will be challenged to improve their fitness and refine their technical skills so they can return to their usual training armed with new ideas and renewed passion.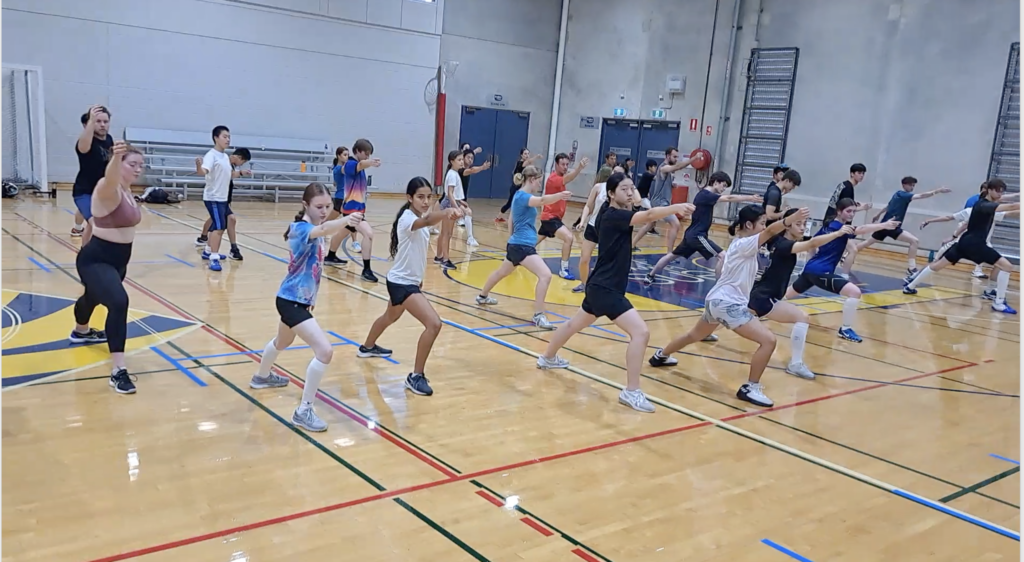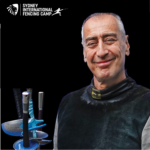 Coaching led by Italian Olympic Coach, Prof. Enrico di Ciolo
Leading his 7th International Camp as Head Coach, Prof. Enrico di Ciolo has decades of experience under his belt as a world-renowned coach and athlete. He participated as Master of the Italian Nationals in three Olympic Games and numerous World and European Championships. He has been a trainer of the National Fencing squad since 2014 and was awarded the silver palm of CONI, as well as having completed the highest academic qualification for technicians in the Italian sports world. He is a Knight of the Italian Republic for sporting merit. His student Paolo Pizzo won the Men's Epee World Championships in 2017.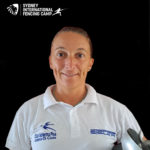 Maestra Virginia Di Franco
Returns for her second Sydney Camp. A very experienced coach and highly accomplished fencer, at 14, she was the Italian Junior Champion & a member of the National U20 team in, winning Gold in the European Team Championship and Silver at the World Team championship.
In June 2018, she became a Maestro, initially
training as a coach under Antonio Di Ciolo, progressing rapidly from children's coaching to coaching at all levels.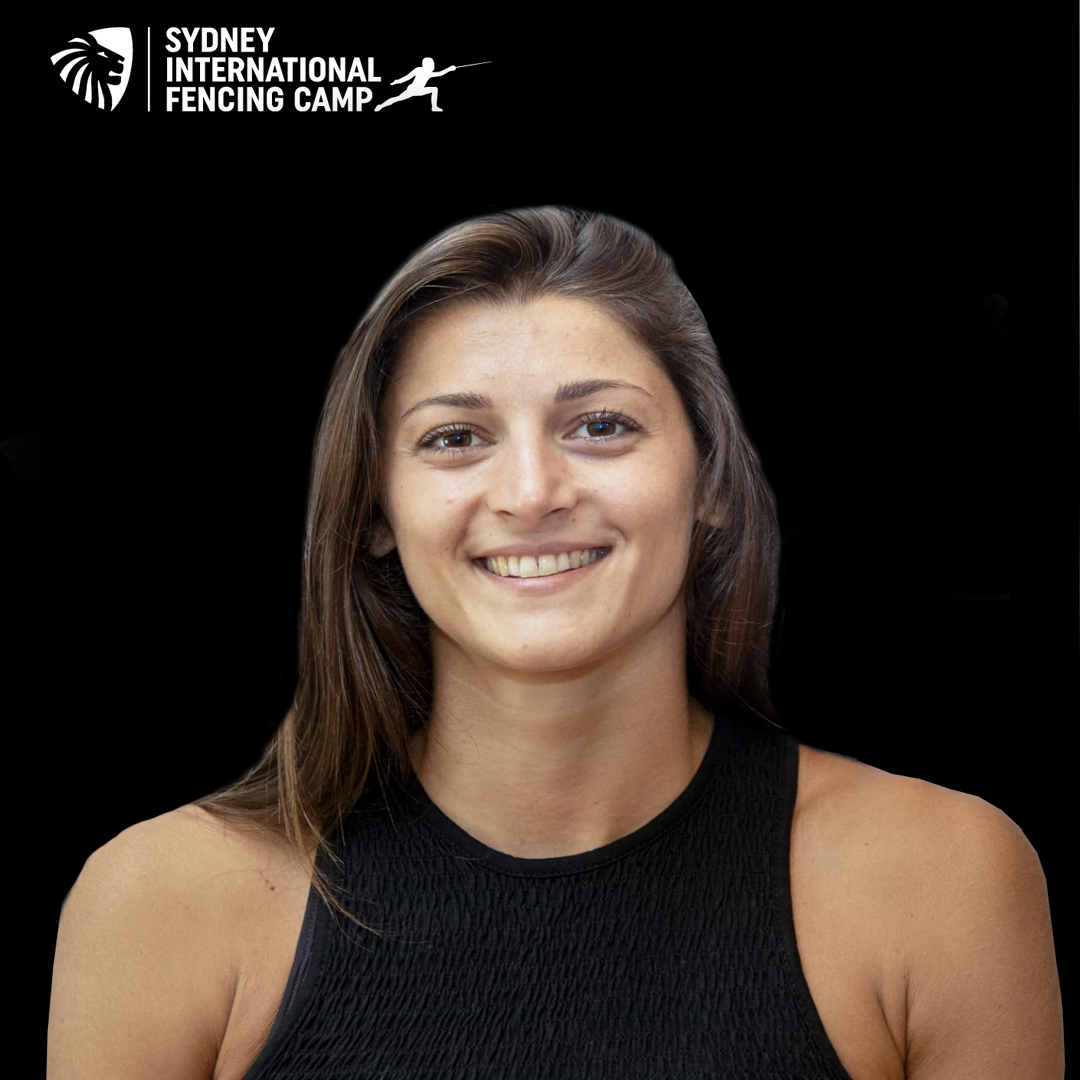 Nicol Foietta – Epee
Italian Championships: BRONZE Under 23 & U20; GOLD Under 20, Cadets; GOLD, SILVER, BRONZE Senior
FIE: 8th Senior Calì & Tallinn; BRONZE FIE team world cup Tallinn & Havana; SILVER – Team Universiade – Naples
GOLD, SILVER & BRONZE World Cup U20 Helsinki, Laupheim; SILVER team World Cup U20; GOLD Team U20 Worlds Tashkent; BRONZE Team U20 Porec; SILVER team U23 – Yerevan; SILVER team U23 – Plovdiv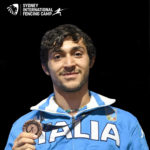 Giulio Gaetani – Epee
Giulio returns for his second Sydney International
BRONZE European Champs u17; BRONZE European Champs u23; GOLD European Champs u17 team; SILVER European Champs u20 team; GOLD WORLD Champs  u20 2020; #1 WORLD RANKING U20 2020; GOLD Mediterranean champs u23; GOLD u23 Italian Champs; GOLD Berlin u23 European circuit; GOLD, SILVER, BRONZE Italian Champs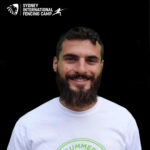 Tommaso Chiappelli – Foil
Captain of Club Antonio Di Ciolo; BRONZE Italian Championship U23; SILVER Italian Championship U20; SILVER Italian Teams U20; BRONZE Italian U17; GOLD Italian Cup Senior; GOLD Italian Teams Cup Senior; GOLD Teams World Cup U20; World Cup U20 8th; GOLD Mediterranean Games U17; Mediterranean Games U20 3rd place
Participants
$850per person
8 day Camp between 4-12 January 2024*
*Rest and tourism day 8th January
The Camp is designed for fencers aged 12 and over, of all capabilities (unless they are very fit/technically capable).
Participants will be divided into weapon and competency groupings.
The Camp runs as a collaboration of coaches from different clubs, states and countries. It is about bringing people together to work intensively and cooperatively, to develop skills, confidence and networks.
Private Lessons with Enrico or Virginia will be available at an additional cost during the Camp. For more information on pricing and booking your individual lesson, please contact Bill Ronald OAM, OLY, directly via [email protected]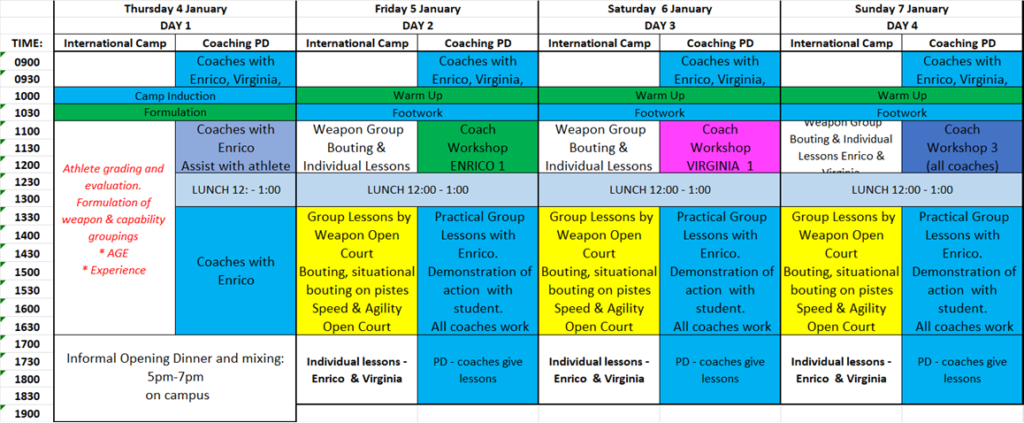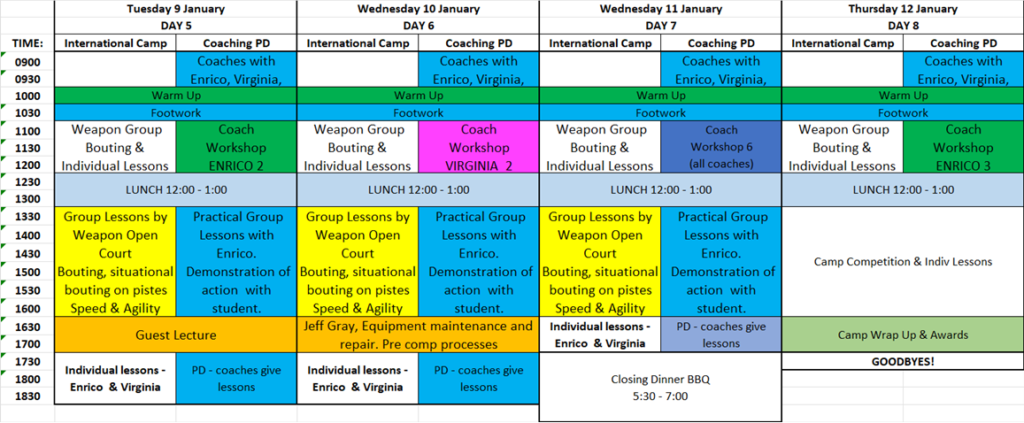 *Please note this schedule is subject to change.
Where? Bryden's Stadium, Sydney University Sports & Aquatic Centre
Located on The University of Sydney's main Campus, the Centre is easily accessible by car, taxi, or railway and conveniently situated near Sydney Airport, Youth Hostels and Restaurants.
SUSF has partnered with two of the University Colleges to provide economical options close to the venue:
St Andrew's College
A residential college located within the University of Sydney. The College is 4 kilometres away from Sydney CBD, and is in the suburb of Newtown, renowned for its award-winning cafes, historic pubs and boutique shops.
Accommodation at St Andrew's is a truly unique experience. Guests will have the opportunity to relax in the brand-new TRL building, located on the picturesque grounds of the University campus. Convenient Central location, close to supermarkets, bus stops and Newtown train station
Accommodation options
Modern Double Bedroom with ensuite $90
Modern Double Room with shared bathroom – $85 per night per person
Optional: a single mattress to be added to the room $100 – linen and towels will be provided.
Facilities
Modern gym with dedicated workout zones (heavy weights, cardio, yoga)
Tennis court that can be used for basketball/netball/tennis
Lift available in all buildings
Complimentary Wi-Fi internet access
24-hour security
Towels and bed linen provided in the rooms
Iron and ironing board available (shared)
Shared kitchenette facility in the Link Foyer
Laundry facilities available within the building
Foyer/Lounge area is located on the ground floor. The Link foyer is spacious and bright, with direct access to the outdoor area.
Included
Linen, towels
Room service
Stylish interiors
Built-in wardrobes
Mirror and study space in each room
Parking
We have a private parking lot available, limited spots and pre-booking required – $120 flat rate for the whole stay
To reserve a room, please contact the Conferences and Events Officer at St Andrew's College on (02) 9565 7587 or [email protected]
You can see photos by clicking on this link: https://events.standrewscollege.edu.au/group-summer-stays/
Sancta Sophia College
Sancta Sophia College is an accommodation option for participants and coaches of the Sydney International Fencing Camp. The College is located at 8 Missenden Road, Camperdown, and is popular amongst guests to The University of Sydney due to its proximity to University grounds, and excellent accessibility via public transport from the CBD and other nearby hubs (such as Central, Redfern and Newtown).
Accommodation options:
Single Room with Ensuite (sleeps 1) within the College's modern Graduate House – $95 per night.
Inclusions:
Direct access to the University of Sydney
Free Wi-Fi
Linen, towels, and regular room servicing by Sancta's Housekeeping team
Shared kitchen facilities, and Rooftop Terrace with city views
Please note that parking is not available.
For more information about Sancta Sophia College, visit: https://www.sanctasophiacollege.edu.au/events-and-accommodation/accommodation/
To book your stay at Sancta, please contact Hayden Edwards (Marketing & Development Officer) at [email protected]with the full details of your intended stay.