Sydney University Football Club (SUFC) has sent a 33-strong contingent to France to compete in the World University Rugby Invitational Tournament (WURIT), coinciding with the Rugby World Cup.
WURIT in an international rugby competition that brings together teams from the top universities in the northern and southern hemispheres. The tournament is organised every four years in the country hosting the Rugby World Cup.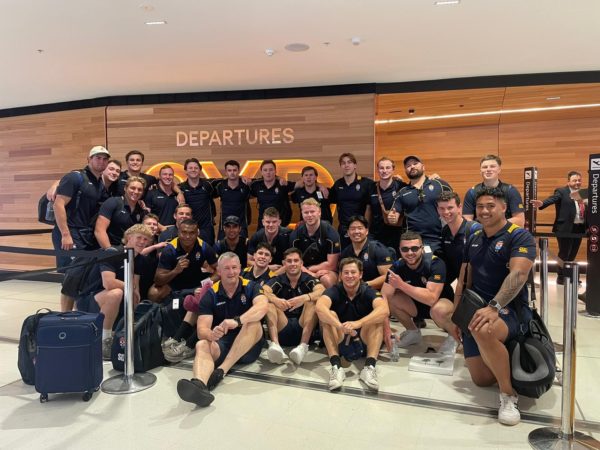 The SUFC squad includes three staff and 30 players, including eight Colts and 22 from the Grade teams. The squad includes 11 recent Colin Caird Premiership winners in Angus Allen, Sam Bignold, Sam Cantwell, Vincent Creagh, Hamish Mac Smith, Sione Harriss, Jacob Ratcliff, Tas Smith, Sepesa Loga-Tarogi, Charlie Murray and Aidan Wearne. The team will be coached by Damien Hill, Laurie Weeks and Sam Rolfe.
The 2023 tournament will run from 18-30 September and will be contested by teams from the Ikey Tigers of University of Cape Town, from South Africa, New Zealand Universities Colts (combined universities), the University of British Colombia Thunderbolts from Canada, the Atlantic Coast All Stars from the USA, the University of Sydney and the hosting team, the University of Bordeaux from France. Matches will be played in the stadium at the University of Bordeaux Rocquencourt campus in Pessec, Gironde.
SUFC will meet National Collegiate Rugby on September 21, New Zealand Universities on September 23 and the University of Cape Town on September 25. The semi-finals between 1st and 4th and 2nd and 3rd will be on September 26 and the finals on September 28.
The tournament also features Opening and Closing ceremonies and visits to local rugby clubs. The SUFC contingent will also attend the Wales versus Australia game as well as a scientific conference on Rugby Data Science.
This is the third edition of the WURIT. The first one in 2015 was organised by the University of Oxford in the UK and the second, in 2019, was hosted by the University of Waseda in Japan. The 2023 tournament will also include a women's competition for the first time.
SUFC didn't attend the first WURIT but sent a squad to Japan in 2019, when they finished third in a strong field that included teams from Bordeaux University, China Agricultural University, Dublin University, New Zealand Universities, Oxford University, the Siberian Federal University, the University of British Colombia, Cape Town University and the hosts, Waseda University. They're hoping to make their presence felt in France.
SUFC hope to be hosting the 2027 tournament coinciding with the World Cup being held in Australia.