The recent celebration of National Volunteers Week brought forth the name of Sydney Uni Sports & Fitness Assistant Maintenance Manager, Ash Miller, aka The Gray Man. 
One of hundreds of volunteers who keep Sydney University's 40 sporting clubs up and running successfully, Ash has become a legend in the Sydney University Football Club (SUFC) in his role as club Gear Steward and recently added Gear Steward and Resource Manager for the women's rugby teams. It's a role he took on over 12 years ago from another legend, Steve 'Rounders' Rowntree, who has set the standard as Gear Steward for the Club. Ash was introduced to Rounders by Events Manager, Gill Elphinston and it was then that his passion for rugby was forged through a deep respect and fondness for Rounders. An exemplary man and mentor. 
"The enjoyment of volunteering as a member of a respected and well established sporting organisation, the oldest club in Australia and 8th oldest in the world, is an honour and a privilege.  Seeing these young men and women come to the Club and Sydney University either through studies and rugby or just rugby – keen, eager and roaring to go, and you watch them sweat, bleed, struggle and succeed, laugh and cry, but alternately watching them grow into extraordinary people ready to stamp their mark on the world and become pillars of their community. My goal in this process is to be a caring, friendly face that all players, coaches, staff, sponsors, supporters and family trust, knowing that we are for all."
When interviewed on Saturday morning, he was already on the road to Concord Oval at 9am to assist the SUFC women's team with team resources set up before setting off for T.G. Milner Field at Eastwood for the seven matches in Round 10 of the NSW Premier rugby men's competition. He had already left the three sets of Colts jerseys at the Sydney University Football Ground for the colts teams. 
Ash's involvement starts during the week, with club training on Tuesday and Thursday nights, where he runs water for all the girl's teams and assists with strapping and first aid if required. On Friday nights, he prepares all the jerseys, water bottles and ice tubs ready for collection to be transported to the games. Ash will then pack the SUSF van (Simba) with a game day kit for the women's Gold and Blue teams. 
Ash says Saturday is game day, the business end of the week. It is here that he brings out every resource he has available to him. This is in an endeavour to allow the girls to function at a high standard, allowing them to feel as close to Super W standards as possible. At the end, there is always a pack down which his is always assisted by all the women's team. One would think that Ash's day is over. Think again. Now he travels to the men's venue and assists with the collection of all the men's kit and equipment, and it is here where Ash is the last to leave, mainly to collect any lost property (RM Williams boots) left behind. Now his day is over.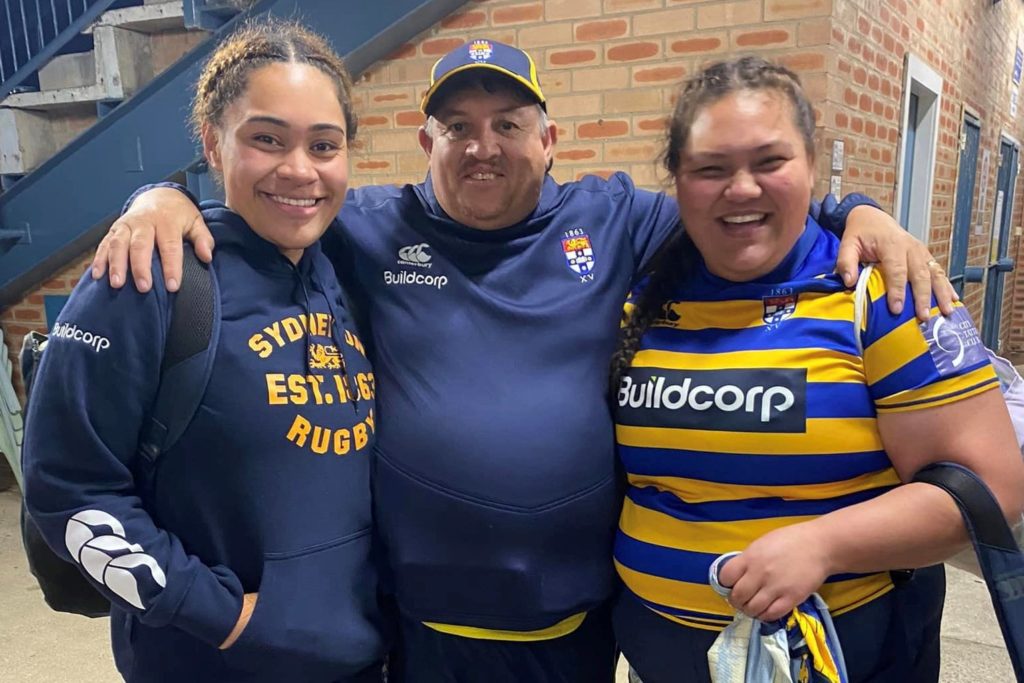 Ash was awarded a University Gold in 2020 for his extraordinary volunteering efforts. On leaving school, he took on a mechanics apprenticeship for four years before switching to a carpentry-building apprenticeship which has led to a 40-year career in the mining, commercial and residential industries. In December of 2003, he enlisted in the Royal Australian Air Force Reserves, initially as a carpenter, before being seconded to the newly mustered unit "Base Protection Unit". That led to security detachments for the Commonwealth Games, a Presidential visit by George Bush and the Pope's visit to Australia, and a number of Avalon Air Shows.
When he came to the University in 2006 as a contracted member of the Sydney University Campus Security unit, with skills acquired from his 8-year military career, he soon ended up as team leader for alpha team and looking after visiting VIP dignitaries. In 2010, Ash was employed by Sydney University as the Campus Assist Coordinator for campus infrastructure services. In 2011, while in that role, Ash was called to a medical event outside the Campus Infrastructure Services building where a member of the public had suffered a medical episode. Ash was nominated and presented the Royal Life Savers Commendation Certificated by NSW Governor Marie Bashir at NSW Governor's House.
Ash has dedicated himself to his love for Sydney University Rugby Club and his passion for rugby for 12 years, always the first one there and the last to leave.