Australia's Jaryd Clifford collected a silver medal in the T12 men's marathon on the last day of competition at the Tokyo Paralympic Games, on Sunday.
Moroccan El Amin Chentouf won the gruelling event in 2:21.43 from the world record holder Clifford, who posted 2:26.09, with Japan's Tadashi Horikoshi collecting bronze in 2:28.01.
The T12 category is for vision-impaired athletes who rely on guides to lead them around the course. Jaryd's guides for the marathon were Tim Logan and former Sydney University Athletic Club member Vincent Donnadieu.
Vincent is a Bachelor of Veterinary Science graduate, an alumnus of Sydney University's Elite Athlete Program and a former SUAC competitor.
Sydney University was represented by five other athletes at the Tokyo Paralympic Games, including Angie Ballard, who was on her sixth Games mission, Georgia Munro-Cook and Hannah Dodd (Basketball), Jenny Blow (Goalball) and James Talbot (Rowing).
Paralympic legend Ballard, a Bachelor of Science (Honours) graduate and alumnus of Sydney University's Elite Athlete Program, previously competed in the T53 wheelchair sprints at the Sydney 2000, Athens 2004, Beijing 2008, London 2021 and Rio 2016 Paralympic Games, claiming three silver and two bronze medals on the way.
She was hoping for the elusive gold medal in Tokyo and put herself in position by claiming a berth in the T53 100m final. Ballard finished 7th (17.43) overall, with China's Fang Gho and Hongzhuan Zhou collecting the gold and silver and Great Britain's Samantha Kinghorn claiming the bronze.
Ballard began competing in wheelchair racing as a 12-year-old in 1994 and first represented Australia in 1998, during her first years as a student at the University of Sydney. She held sporting scholarships at the Australian Institute of Sport and Sydney University during her undergraduate years. As well as competing, she also sits on the board of Wheelchair Sports NSW.
Australia Wheelchair Basketball representatives Hannah Dodd and Georgia Munro-Cook finished 9th with the Gliders after defeating Algeria 71-32 in their Classification Playoff.
The Gliders had lost their four preliminary rounds to Japan (73-47), Germany (77-58), Great Britain (75-38) and Canada (76-37) to miss out on a quarter-final berth.
The Netherlands won the gold medal with a 50-31 result over China, while the US edged out Germany for the bronze with a 64-51 result.
In her previous sporting life, Hannah Dodd was an elite equestrian rider, the top-ranked Australian in her event and class. In 2012 she competed at the London Games and finished just outside the top 10 in each of her two events. Hannah was born with sacral agenesis and spina bifida with upper limb dystonia and learnt to ride a horse before she could walk. She started competing in 2005 and was representing Australia by the following year.
Hannah's distinguished equestrian career ended when she decided to take up basketball, in which she made similarly rapid progress. She made her Gliders debut at the Osaka Cup in early 2015 and, later that year, won silver with The Devils women's national U25s side at the World Championships. She is now a key member of the senior side.
Georgia Munro-Cook is a Bachelor of International and Global Studies (Honours) graduate and current Doctor of Philosophy (Arts & Social Sciences) student. An alumna of Sydney Uni Sport & Fitness' Elite Athlete Program, the Tokyo Games were Georgia's first Paralympics campaign.
Georgia attended Newtown High School of the Performing Arts before enrolling at the University of Sydney. When her able-bodied basketball career was cut short by injury, Georgia found a substitute in wheelchair basketball in the WNWBL. She was selected in the Australian Under 25 Devils in 2015 and quickly advanced to play for the Gliders later that year, competing at the 2015 AOZ qualifiers, 2016 Osaka Cup and 2017 AOZ qualifiers.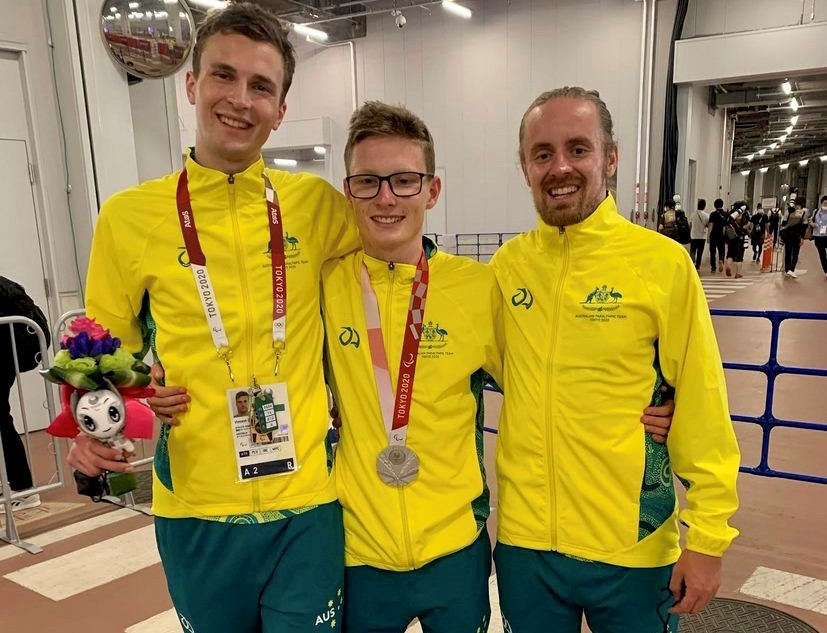 Australian goalball representative Jennifer Blow is a Bachelor of Education/Arts graduate and alumna of Sydney Uni Sport & Fitness Elite Athlete Program. She has been a key member of the Australian team for several years, having made her international debut back in 2010 at the International Blind Sports Federation Goalball World Championships.
Tokyo was Jenny's third Paralympic campaign, having previously competed in the 2012 Paralympic Games in London and the 2016 Paralympic Games in Rio de Janeiro. Competing in Group C at Tokyo, the Aussie Belles lost 11-1 to Israel and 6-nil to China in their opening two preliminary rounds before they broke a 25-year drought in winning a Paralympic match with a 4-3 result against a strong Canadian outfit.
The Belles backed that up with a 4-1 result over reigning world champions Russia to make the quarter-finals, where they lost 10-6 to Turkey, who went on to claim gold with a 9-2 result over the US, with Japan claiming the bronze with a 6-1 result over Brazil.
Sydney University Boat Club member James Talbot, a Bachelor of Economics (Honours) graduate, was on his first Paralympics campaign in Tokyo, competing in the PR3 Coxed Four.
After finishing second behind the US in their heat, the Australians entered the final with a genuine medal chance. Great Britain won the gold medal in 7:09.08, with the US claiming silver in 7:20.13 and France the bronze in 7:27.04. Australia, crewed by Alexandra Viney, Nikki Ayers, Thomas Birtwhistle and James Talbot, with coxswain Renae Domashenz, came in fourth in 7:34.73.
When James was 21, while on holiday in Vietnam with friends, he had a motorbike accident which left him with a permanently damaged wrist and hand. Unable to continue playing contact sports, he decided to get back into rowing (Para rowing) – a sport he hadn't competed in since high school. James made his international debut for Australia in the PR3 Mixed Coxed Four at the 2018 World Rowing Championships. His competitive edge has resulted in Games selection and a commendable fourth place.
Sydney University's Paralympic representatives combined with the 35 athletes the University had competing in Australia's 486-strong team at the Tokyo Olympic Games between 23 July and 8 August 2021.
All were current or former University of Sydney student-athletes, Elite Athlete Program (EAP) or club members. University of Sydney graduate and former EAP member Simon McTavish represented Canada at the Games.