Photo Credit: Athletics Australia
After seventeen days of inspirational sporting competition, the curtain has come down on the 2020 Olympic Games in Tokyo.
As our 486-strong Australian Olympic team make the flight home and complete their quarantine duties, it is timely to pause and reflect on the tremendous efforts of our 35 University of Sydney student athletes.
Donning the green and gold, each athlete represented themselves and every Australian with so much pride on the world's biggest sporting stage; we could not be prouder of their efforts.
Australia finished in sixth place on the overall medal tally with 17 gold, 7 silver and 22 bronze medals (46 total). An incredible 99 Australian athletes left Tokyo with a medal – seven of whom are Sydney University Olympians.
If Sydney University was its own country competing at the Games, it would sit in equal 42nd position with a total of five medals – the same rank as Colombia and Indonesia; ahead of Ireland and Mexico (4); and just behind Egypt (6), which has a population of over 100 million.
Here's a recap of how our athletes faired in their Olympic campaign.
Artistic Swimming
Our athlete: Rayna Buckling
The 20-year-old was one of six debutants who made the eight-person team to represent Australia. After two days of competition (technical and free), Australia finished 9th overall with 153.0018 points.
Athletics
Our athletes: Annelise Rubie-Renshaw, Alexander Beck, Catriona Bisset, Jenny Blundell, Liz Clay, Mackenzie Little, Nicholas Hough, Nicola McDermott and Rohan Browning
Our field and track stars made worldwide headlines and for all the right reasons.
Rohan Browning's name is at the top of that list. Rohan won his 100m heat with a blistering PB time of 10.01 seconds, beating the second-fastest man in history, Yohan Blake. Browning fell short in the semi-final, which cost him a spot in the final. Off the track, Rohan has become an online sensation following his incredible debut Olympic performance, with people taking to his fashionable 'flying mullet'.
Liz Clay, Mackenzie Little and Nicola McDermott each rose to the occasion in their heats, advancing them to their respective finals.
Clay placed third in her semi-final, running a 12.7s PB in the 100m hurdles however fell short for a spot in the final by 0.04 seconds.
Mackenzie wowed us when she threw her javelin 62.37m in her heat, locking her a spot in the final, where she placed 8th overall.
And last but certainly not least, Nicola McDermott established herself as a new national hero. Having cleared 1.98m in her heat, the Central Coast local held her own throughout the final. In a second attempt of 2.02m PB jump, Nicola successfully cleared the height and finished on the podium with a silver medal. This becomes Australia's fifth-ever high jump medal at the Olympics and comes after a 57-year drought.
Basketball
Our athlete: Katie Ebzery
The Australian Opals won 1 and lost 2 in their pool matches but solidified their place in a must-win quarterfinal clash against a tough USA outfit. Unfortunately, the Opals fell short, 79-55, which ended their campaign. Sydney University graduate Katie Ebzery was strong throughout the tournament, playing big minutes and making a scoring impact for the Opals.
Canoe – Sprint
Our athletes: Simon McTavish (Canada) and Murray Stewart (Australia)
Although both were on the water at the same time, Simon and Murray represented different countries. McTavish with Canada and Stewart with Australia competed in the K-4 500m semi-finals, where Canada bowed out after placing 5th. Australia slot through to finals where they finished in 6th place.
Simon also competed in the individual MK1 1000m race, where he placed 4th, missing a semi-final spot.
Hockey
Our athlete: Greta Hayes
The Hockeyroos were on fire in Tokyo, and at times, looked like they could go all the way. Having won all 5 pool matches they were on a steady roll but lost to a relentless Indian side in the quarterfinal, 1-0. A devasting outcome however just the beginning for Sydney Uni Hockey representative and now Olympian, Greta Hayes.
Karate
Our athlete: Tsuneari Yahiro
Tsuneari Yahiro created his own piece of Olympic history as he became Australia's first karateka representative in the sport's debut appearance at the games. Yahiro was eliminated in the round-robin stage of the – 75kg Kumite division, where he went down in each of his four matches against Kazakhstan, Italy, Azerbaijan and Germany.
Modern Pentathlon
Our athletes: Ed Fernon and Marina Carrier
Ed Fernon and Marina Carrier are heroes in their own right. The pair are the only representatives on the Australian team who competed in Modern Pentathlon. Both had to complete a series of events including, fencing, swimming, ride show jumping and a laser run. Ed finished in 31st place, and Marina finished 27th overall.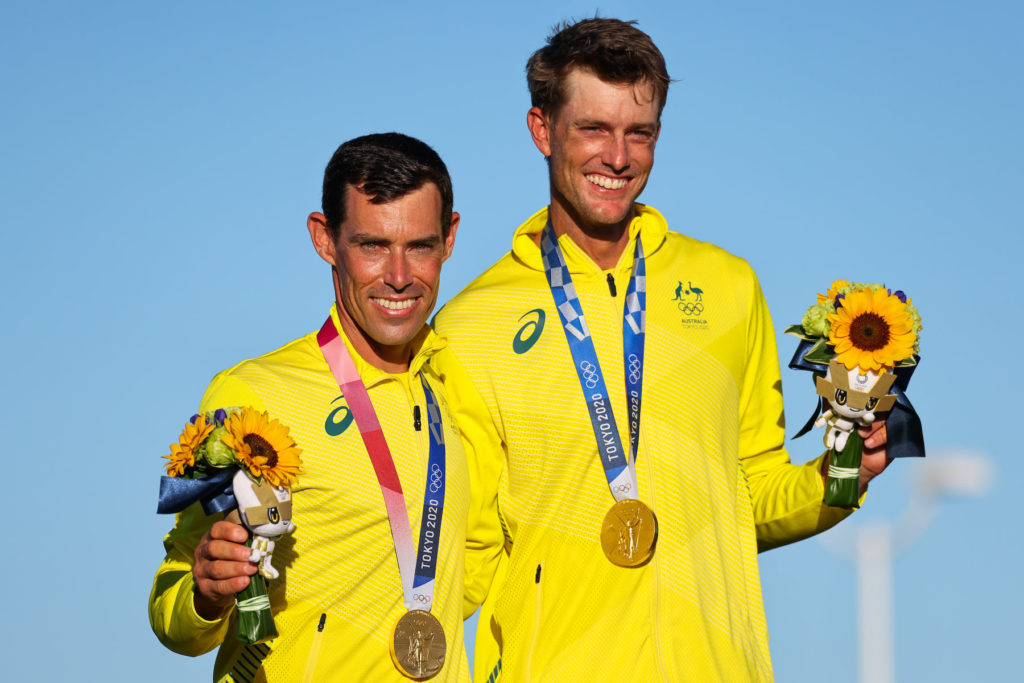 Photo Credit: Australian Sailing Team (Sailing Energy/Word Sailing), Rowing Australia, Athletics Australia, Australian Olympic Committee, World Athletics
Rowing
Our athletes: Alexander Purnell, Cameron Girdlestone, Genevieve Horton, Harriet Hudson, Jack Hargreaves, Jack O'Brien, Nicholas Purnell, Rowena Meredith and Tara Rigney
On Wednesday, 28 July, Australian rowing celebrated its single greatest day in Olympic history with four medals. Three of the four medal-winning boats featured Sydney University Boat Club athletes.
Jack Hargreaves and Alex Purnell secured the gold medal in the men's coxless four. Cameron Girdlestone claimed his second Olympic medal with bronze in the men's quadruple scull, and Rowena Meredith and Harriet Hudson took out the bronze medal in the women's quadruple scull in their debut Olympic Games. An outstanding effort by all involved.
Sailing
Our athletes: Jamie Ryan and Will Ryan
Our favourite sibling duo, Jamie and Will Ryan, represented Australia on the Tokyo waters. This was their second Olympics experience and, to their own credit, took their performances to the next level.
Jaime, alongside Tess Lloyd in the 49er FX finished 13th overall. This is an improvement from her 2016 result in Rio, where she managed a 15th place finish.
Will, paired with Mat Belcher, stormed to victory in the medal race to take gold for Australia in the men's 470 sailing class at the Enoshima Yacht Harbour. Like his sister, Will did one better from his last Olympics and went from a silver medal to a gold.
Triathlon
Our athlete: Emma Jeffcoat
Six years ago, Emma tried her hand at the complex sport of Triathlon, and in 2021, made her first Olympic appearance. The northern beaches local was one of four debutants on the Australian triathlon team. Her first taste of the Games was in the Women's Individual Race, where she placed 26th however finished in an improved position in the Mixed Relay Race (9th overall).
Water Polo
Our athletes: Keesja Gofers, Hannah Buckling and Matilda Kearns, Anthony Hrysanthos, George Ford and Goran Tomasevic
A strong cohort of Sydney University Water Polo Club members earnt inclusion in the Australian men's and women's water polo teams.
The Sharks (men's side) failed to progress beyond the group phase, however recorded an inspiring win against Croatia, who were champions at London 2012 and silver medallists at Rio 2016.
The Stingers (women's side) opened up the tournament in strong form, stringing together a healthy balance of wins and losses. In a must-win match for a place in a medal playoff, the Stringers recorded a heartbreaking 9-8 loss against ROC, ending Australia's bid for their first Olympic medal in water polo since 2012. They showed their character in the 5th place playoff with a gusty win over the Netherlands, 14-7.
This year's Olympics was like no other. Staged against the backdrop of the COVID-19 pandemic, nearly empty stands and masked faces, our athletes showcased their talent in a way they've never had to before. Podium finish or not, they are Olympians and will always be remembered that way.