Winning back-to-back Sydney Premier Division Australian Football titles is a tough call in any era. But for Sydney University Australian National Football Club (SUANFC), the added pressure of claiming back-to-back titles is they'll have to earn a berth in a fifth consecutive season decider.
The Students made it to the 2017 grand final only to fall by six points to Pennant Hills. They clawed their way into 2018's season decider but lost by an agonising three points to UNSWEastern Suburbs Bulldogs who backed that up with an 18-point result to snare the 2019 title from the Students.
Sydney University then broke a 28-year title drought to claim the 2020 Premier Division 1 title with a 54-45 win over UNSWES in a season that was shortened due to the COVID pandemic. And, as proof of how tough it is to claim premierships, they'd split wins with UNSW-ES in their two previous encounters in 2020 and went into the decider as underdogs.
Coach Tom Morrison is too wise to make bold premiership predictions but says making the finals is eminently achievable and points to last year's outcome of what can evolve from there. Morrison has built up a strong connection with SUANFC since venturing east from Perth's Claremont FC in 2013 to take on the role of North East Australian Football League (NEAFL) Development and Premier Division Head Coach while competing as an athlete in the SUANFC NEAFL team. He has since held a number of coaching roles within SUANFC, Sydney AFL and Sydney Swans Academy.
While taking in the growth of Australian Football in Sydney, including Sydney University's eight-year venture into the North-East Australian Football League (NEAFL), which closed down in 2020 as a result of the COVID pandemic, Morrison has a good perspective of where SUANFC sits in the Sydney scene.
"Last season there was a fair gap between the top four or five teams and the bottom half of the competition," he said. "Of course, like all other sides, we want to win the competition, but we also want the competition to be as competitive as possible.
We think that season 2021 will be just as challenging but perhaps more even across the competition. Those that make the finals will have really earned their right. One of my three aims for the club is to win back-to-back titles. We're capable of being thereabouts at the end of the season."
Morrison also wants to keep building the club's resources to cater for young players to have a progression through the ranks. "We have talent there and our Under 19s program has grown from strength to strength across the past few years." he said. "In doing that, the focus is not just on the 19s, but all players in the club – everyone can strive to improve, from blokes coming back from NEAFL to those at a social standard. Sport is fun at any level and the fine balance for a club coach is to maintain the fun while training and working hard to improve. It's a juggling act."
And with NEAFL having folded, Morrison wants to help SUANFC get into a position to pitch for a licence to join the new eastern seaboard competition in the Victorian Football League (VFL), playing against the likes of the Giants, Swans, Lions, Suns and Southport.
"We've maintained most of our players from last season's squad and added some young talent from within the club. Having guys like Lewis Stevenson continue on with the club is important to help keep us in a competitive position on the ladder whilst fast-tracking the development of our young kids. Lewis is a former West Coast Eagles and Port Adelaide player who's been here for more than six years. He'll be acting as a player/coach again this season and passing on his knowledge and skills to the young players coming through from the Colts ranks.
"We have retained Jake Bartholomaeus, last year's Phelan Medal winner, and added Harry Morrison, who has returned from a year in the SANFL. These two were both added to the Swans list to compete in the VFL competition this season, so we hope that we don't see too much of them this year and they can play an important role in the VFL.
"Others back on board include Aaron Day, Cameron Williams, Nick Foster, Darcy Baron-Hay, Mitch Thompson, Jack Hiscox, Allister Clarke, Sam Fong, Monty and Spencer Krochmal and Austin Lucy. All were important players for the Students in the 2020 season."
The Students have had retirements to some really important players in Tom Ayton, Sam Tagliabue and Will Sierakowski and have lost Will Gowers to Aspley in the VFL. "However, we are excited that this provides opportunities to other players within the squad," Tom said.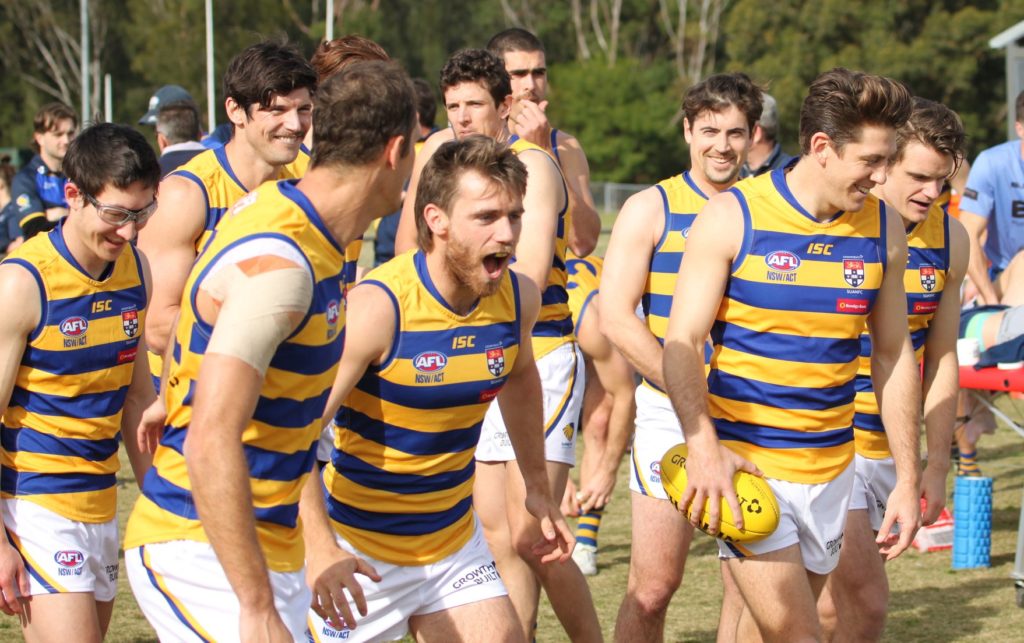 While the player ranks are looking strong, SUANFC has also maintained a strong coaching and administration corps, including former Richmond legend Wayne Campbell, who came on board last year as Director of Football. He said the club has a good list from the 2020 grand final squad, some experienced players from the NEAFL squad and a strong coaching corps.
SUANFC President Sam Power said the club is fortunate to have Tom and Wayne on board. He said the club has also re-appointed Lindsay Scown as Senior Men's Assistant Coach and Oscar Gibbons as Men's Reserves Coach.
"Lindsay came to SUANFC following the 2019 season and took on the role of NEAFL Senior Assistant Coach (Development), before moving into the role of Senior Assistant Coach in the Men's Premier Division side for the 2020 season," Mr Power said. "He brings with him a wealth of experience in developing young footballers and is an excellent addition to the men's senior coaching team.
"Oscar will move into his new role of Men's Reserves Coach for the 2021 season, coming from his previous role within SUANFC as Colts Head Coach. He came to SUANFC in 2015 from Glebe Juniors, and played in our Colts, Men's Division 1, 2 and 3 and Reserves sides before taking up coaching.
"Unfortunately we lose Matthew Vicic from our coaching group as he looks to return to the squad in a playing capacity.
"We are really grateful to have Matt rejoin the program as an athlete and take his knowledge of our game plan from a coaching role to that of a player. This will be very beneficial for the development of the players around him and he gets to scratch the itch of playing once again after some injury concerns a few years ago.
"Filling the void in the forward line coaching position is Katie Dean, who has coached in the program for a number of years. "We are really happy to have Katie change from a midfield coaching role to take ownership of the forward line. She's a terrific coach and offers a calm and comforting personality to the mix. She's really well respected by the players and coaching staff."
SUANFC has also announced the appointment of Yucel Celenk as the Women's Premier Division Head Coach for 2021. "Yucel returns to the club to take on the Head Coach role for the Women's Premier Division team, having last coached the women' side in 2017," Tom said. "As Head Coach of the women's team from 2013 until 2017, Yucel took the team to an impressive five Grand Final appearances, taking home two Premierships.
"Brad Miller is a terrific addition to the coaching staff this year. Brad has a lot of experience as a player at AFL level with both Melbourne and Richmond as well as a number of years coaching at Melbourne and, most recently, GWS. As recent as last year, Brad was the forwards coach for GWS Giants.
"Brad's role is Director of Coaching and he is responsible for the development of the coaching staff as well as assisting with the innovation of their programs," Tom said. "We are extremely lucky to have Brad's services and he has made a really positive impact already."
Tim Spehr will coach the Men's U19s (Colts) team for 2021. "Tim has five years of coaching experience under his belt, and a strong knowledge of SUANFC as a club," Tom said.
"Most recently, he worked with the SUANFC Men's Premier Division team as an assistant midfield coach, also assisting with video analysis across the team."
Filling out the Colts coaching team are Jon Dyster and Jeffrey Thomas who coached together for almost 10 years at pathways club Newtown Swans JAFC.
When not coaching the Colts Jon and Jeff play for the Sydney Uni Masters.
Wayne Campbell said the club has a good list from the 2020 grand final squad, some experience players from the NEAFL squad and a strong coaching corps.
As with coach Morrison, he's too experienced to make premiership predictions, but says reaching the finals is the main target and that's achievable.
"Grand finals berths are hard and elusive to get," he said, "but getting to the finals puts the end objective in sight."
All the ingredients are in the pot; bring on the first bounce in April.