Competing for New Zealand at the 2018 FINA World Men's Junior (Under 18) Water Polo Championships in Szombathely, Hungary, was a memorable time for Josef Schuler, resulting in big dreams and even bigger decisions.
In the toughest of tournaments featuring the top 20 world-ranked teams, New Zealand competed in Group C along with Uzbekistan and water polo powerhouses, Italy, Croatia and USA. The Kiwis defeated Uzbekistan in pool play and Schuler was awarded player of the match with five goals to his name.
From there the team went on a winning streak, comfortably defeating China, Saudi Arabia and South Africa on their way through the rounds before losing to Egypt in the play-off for 13th and 14th place. Although it wasn't the result the team was after they finished the tournament as the only team to keep a clean sheet in a match when they defeated China 11-0.
Greece won the 2018 title with an intense 9-8 result over Spain, while home nation Hungary took the bronze medal with a 14-13 win over Serbia. Schuler described the finals as two of the most exciting games he had ever watched.
The competition, the camaraderie, the travel and the thrill of representing his country left Josef dreaming of more, the holy grail dream being the Olympic Games.
Having been selected in the travelling squad in late 2017, Josef took a different path to world championship preparation than the rest of his team. Early in 2018, a decision factor came into play. Facing a GAP year, having completed his schooling at Aquinas School Tauranga, in the Bay of Plenty region of New Zealand's north island, Josef deferred his scholarship and acceptance to The University of Otago in the South Island of New Zealand to focus on his training when fate played a hand.
The manager of the New Zealand Men's team, Quentin Quin, was a friend of Anthony Green, the President of the Sydney University Water Polo Club. When talking to Mr Quin at a Men's camp in 2017, the idea of crossing the ditch was sparked. "Mr Quin told me he knew the president of Sydney University Water Polo and suggested I go and train in Australia with the Lions and play a season there to prepare me for the World Championships. Knowing that Australia is a stronger water polo nation and excited by the idea of Aussie beach living I thought I'd test the waters." Josef said.
"Greeny shot the idea down straight away telling me that there would be no benefit to them or me in coming for a season he asked if I'd thought about studying at Sydney University."
And the rest is history; Josef was put in the Elite Athlete Program and won a scholarship at Wesley College to study for a Commerce degree majoring in accounting and finance. He's now in his fourth year, finishing the degree part-time while holding down a job and training with the Sydney University Water Polo team for the National League competition, which because of COVID, will be a week-long tournament in Brisbane in early April.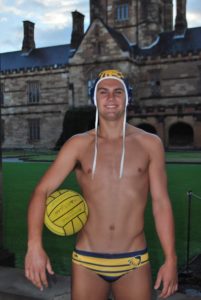 "I wasn't sure about coming over and had pretty much decided I was going to stay in NZ until one morning where Dad and Pete took me out for coffee. I could tell that they both knew that Sydney University was the best option for me but with so many ties to NZ and no family in Australia I was too scared. What they said that changed my mind was, 'you don't want to be sitting here at our age saying shoulda, woulda, coulda,' a phrase my Dad uses a lot but this time it meant more."
In the summer of 2016, Josef was playing at the blowhole, a rock jump at his favourite beach in Mount Maunganui when a freak wave washed over him and his friend, Josef was, fortunately, able to grab hold of some rocks but his friend was dragged down into the rocks and pulled out to sea. "It changed my whole perspective on life. He is a huge motivator for everything I do and the way he lived every day like it was his last, never holding a grudge, always happy, inspires me to do the same," Josef said. "With Dad and Pete simply phrasing this as something 'I don't want to regret later' I was convinced I had to come."
His dad's advice came from experience. Tough flanker Kevin Schuler played four Tests for the All Blacks in the early 1990s, including two at the 1995 World Cup.
Despite the good advice, Josef rued leaving his four siblings, elder brother Angus and sister Morgan and two younger brothers Loui and Isaac and his mother Michelle. "Loui and Isaac are also water polo players and Morgan dabbled as a goalie. Loui has decided to follow in my footsteps and is coming to play with Sydney University this year," Josef said.
Of course, the sporting genes weren't all from Dad. "Mum claims she holds some athletics records from her Primary School days," Josef said. "But I got the slower genes, that's why I play water polo."
So it was a last-minute decision for Josef to 'cross the ditch' for Australia, and one he hasn't regretted, although he misses Tauranga where he grew up spending weekends with his cousins at the farm or out on the boat with his friends.
"I played a range of sports growing up but fell in love with water polo," he said. "I played basketball and rugby for Aquinas and have been able to help Wesley in those sports in the inter-College competitions.
"I'm in my fourth season with Sydney University Water Polo Club and second in the National League. We're now in training for the 2021 season, starting with the Sydney Super League."
Ten clubs from Perth, Adelaide, Newcastle, Sydney and Brisbane will take part in the 2021 National League, relocating to Brisbane for the week-long tournament. The competition format will see teams split into two pools of five, with the pool stages to be held from March 31 to April 4. The cross-over matches will be played on April 5, semi-finals on April 6 and finals on April 7, coinciding with the opening night of the Australian Youth Championships.
"I am part of Sydney University's National League Squad and have represented NSW. In my first year at SU, the National League team went through the season undefeated for the first time in history. It was an awesome experience to be a part of that.
"I've loved living in Australia and in Wesley College. It's a home away from home. And the EAP has been great. I regularly go and check with my allocated EAP person Deborah Fox. They're always happy to help.
"My goals are to secure a spot in the team and win the National League Premiership again. I hope to eventually travel with my water polo and possibly play in Europe. New Zealand, unfortunately, can't qualify for the Olympics but I'd play for Australia if I got the chance, even though I am a super-patriotic Kiwi.
"I feel bad for the Australian players, particularly my Sydney University teammates Anthony Hrysanthos and George Ford, who've been training for four years for the Olympics, which have been pushed back another year and might still be cancelled."
They should eventually get their chance and hopefully, down the track, so will Josef. That's what dreams are made of.