Can we make it 12?
Last year The University of Sydney concluded the 2016 Australian University Games (AUGs) in 3rd place with 8 gold medals, 7 silver and 11 bronze. The gold medals were spread across the board to the T20 Cricket squad, women's football, women's basketball, men's ultimate frisbee, women's badminton, Taekwondo (2) and Kendo. With a huge 15 teams competing in gold medal matches, the University of Sydney continued to be a top competitor across the games.
While the Overall Champion baton may have been passed to UWA last year, the USYD team are looking to regain the title and return it to its rightful place in our trophy cabinet, as we return to the Gold Coast from the 24th-29th September, 2017.

Kendo and Taekwondo
The 2017 Australian University Games, 24-29 September at the Gold Coast, are officially up and running. The martial arts of Kendo and Taekwondo led the way following the Welcoming Ceremony for the 25th commemorative Australian Uni Games at the Gold Coast Sports and Leisure Centre.
Day 1, Sunday 24 September saw USYD competitors shine in Kendo Men's and Women's claiming gold in the prestigious overall points score with 21 points ahead of UTS 10 points, and a tie for bronze on 6 points between the University of Melbourne and Monash. Our USYD Women were standouts snaring 15 points ahead of next best Monash on 6 points. Congratulations to our first placed Open team comprising of Kai Kikuchi, Takumi Ohashi, Victor Kuo, Wone (Chris) Chon, Mingrui (Mory) Zhao, Jeffery Chung, Macca Hou and Brinton Chand.
Individual Kyu Grade, Women: Mengying (Elva) Shi in a brilliant display claimed the gold medal. The Men's event was an all USYD contest for the bronze, with Kai Kikuchi prevailing over Takumi Ohashi. The Individual Dan Grade Women saw Mingrul Zhoa of USYD beat the University of Western Australia competitor in the gold medal match. The Teams Kyu Grade saw USYD proudly come out on top, with silver to Monash and bronze to UTS. Congratulations to our competitors Kai Kikuchi, Takumi Ohashi, Victor Kuo, Jeffery Chung, Macca Hou, Mengying (Elva) Shi). All up a magnificent first day from our Sydney Uni Taekwondo Club representatives showcasing our class across the various disciplines.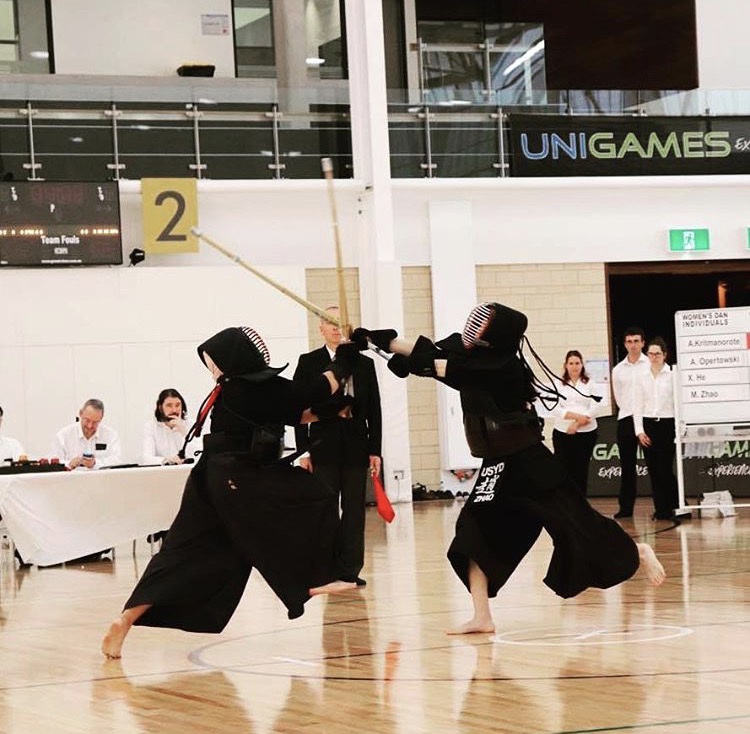 Judo
The University of Sydney finished a highly creditable 4th place in the overall points score, combining women's and men's results, with gold going to the University of QLD; silver to UNSW and bronze to the Australian College of Physical Education, just 3 points ahead of USYD.
Day 2 saw many of our teams open their accounts in the pool games with promising results leading to finals, including a notable mention to our men's & women's water polo squads after defeating their opponents by considerable margins (Double Gold medal radar watch is on). In the individual ranks, there were medals in every colour – Beatrice Hay collected gold in the women's foil, Jesse Morris Silver in the Men's foil and Angus Armstrong wears the bronze for pole vault.
Australian Rules Football
Our Men's team suffered a close loss to Deakin Uni in Pool A going down 36-31, however they bounced back to post a hard fought win against UTS, 24-19 in their second game of the day. Edith Cowan is their next opponent on Tuesday September 26.
Badminton
Our Men's side got the win in their first match 8-1 to Adelaide University and continued their momentum just hours later in their second match to crunch RMIT, 7-2. USYD squares off against ANU tomorrow, Tuesday 26 September.
Meanwhile, our Women's team left the starting blocks flying in this tournament with two big wins downing Adelaide University 7-2 and then the University of Western Australia 8-1 in a day to remember. RMIT is their next opponent.
Baseball
Our USYD Open team had a convincing 18-7 win over close rivals UNSW for their first game but then lost 7-3 in a tense struggle versing Melbourne University. Monash is their next challenge in their Pool of nine teams.
Basketball
Our USYD Men's team are in Pool D and unfortunately suffered a first-up, tight loss to the University of South Australia, 40-33.
Our USYD Women's side enjoyed a positive first hit-out with a strong win over La Trobe 51-27. Not content they then posted a good win over Bond University, 34-15 in their second outing of the day.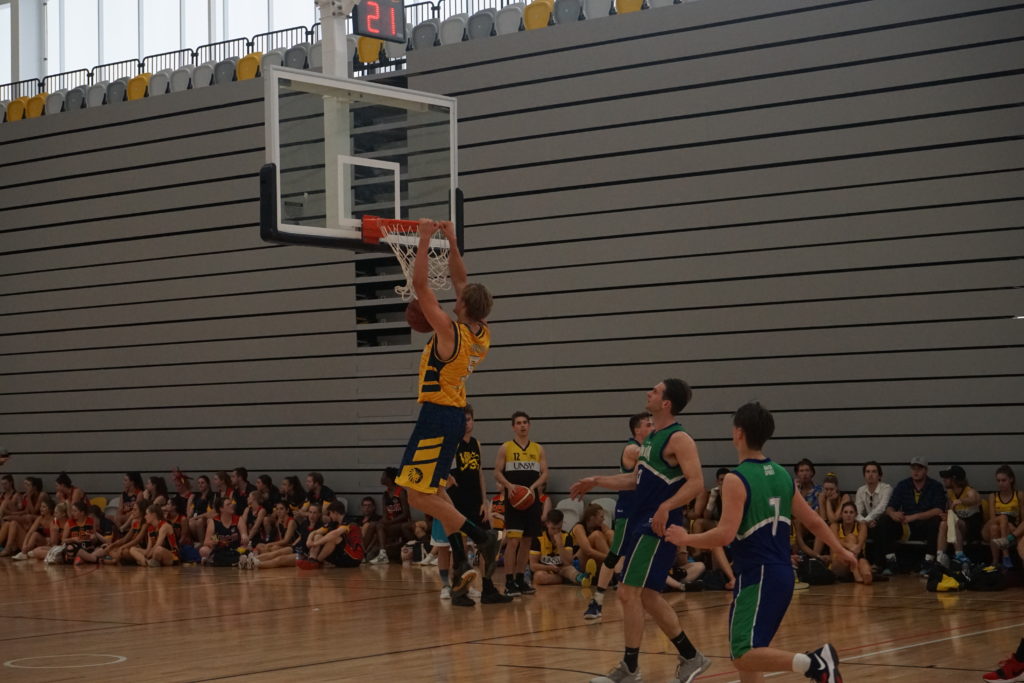 Beach Volleyball
With no USYD Women's Pairs team or Mixed Fours, the spotlight is focussed on our Men's Pairs who unfortunately fell to the University of QLD in a tough first encounter, 2-0. Our Men's Pairs face two pool teams on Tuesday, September 26 with games against the University of Western Australia and then Curtin University.
Football
Our USYD Women's team drawn in Pool A crafted an impressive first game victory over Monash University, 2-1.
Futsal
Our USYD Men's Futsal team enjoyed mixed success on their first day of competition inflicting a big defeat on close neighbours the University of Notre Dame Australia, 9-1 and then in another 'Clash of the Neighbours' went down narrowly to UTS, 5-3.
Our Futsal Women's combination unfortunately went down in a cliff-hanger to Adelaide University, 3-2, but fired back against UWA with a massive 10-2 victory.
Golf
Tough day in the wind for golfers but they managed top 3 in the teams and are looking good for the rest of the week.
Handball
Our USYD Mixed Handball squad drawn in Pool A enjoyed a day of mixed fortunes in going down to the University of Canberra, 23-11 but rebounding to decimate Murdoch University, 26-6.
Hockey
Our Women's Hockey team commenced their competition with a first–up agonisingly close loss to Western Sydney Uni, 2-1.
USYD Men's suffered a heavy defeat in their first match falling to the University of Queensland, 8-0. Another heavy loss followed in their second match of the day going down to ANU, 7-0. The beauty of the Australian University Games is in the participation and there is another game tomorrow being it's the Pool stage.
Rugby 7s
USYD Men's team rose to the challenge recording two strong wins on Day One of competition beating the Queensland University of Technology 19-10, then backing up to overcome the UNSW 22-5.
Day 3 saw several of our Lions separating themselves from the pool packs and emerging as the teams to beat.
Australian Rules Football
Our Men's team unfortunately lost a close tussle in going down to Edith Cowan University 23-16, after one win and one loss the day before. USYD will be hunting for wins as there are just two more Pool matches to play to see if they will qualify for the semi-finals which start this Thursday afternoon.
Badminton
Both our Men's and Women's teams are looking dominant in their respective competitions to date. Our Men's side maintained their unbeaten run posting a resounding 8-1 win over ANU. This means USYD have finished the top placed team in their Pool, three wins from three games and all by sizeable margins. The team now progress to the Quarter-Finals starting Wednesday afternoon 27 September, 2017.
Our Women's team are also undefeated nailing two more big wins today over RMIT 8-1 and the University of the Sunshine Coast 8-1. They now progress to the elimination Quarter- Final rounds also set for Wednesday afternoon.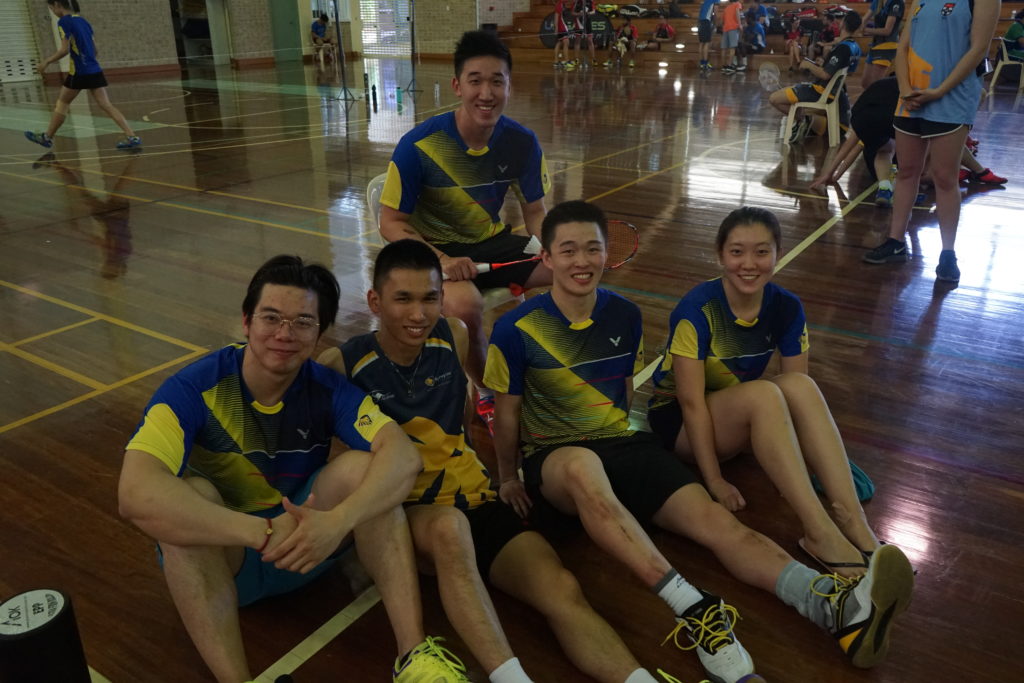 Baseball
Our USYD Open team put in a commanding performance today to eclipse Monash University 4 runs to 1. Two wins in their first three games is a terrific start in a big field of nine teams. USYD verse Newcastle and Griffith Universities next.
Basketball
Our USYD Men's team, with one win and one loss on Day 1, needed another win to make certain of their progression to the Round of 16 and they achieved that with a very satisfying 26-21 victory over Monash. By virtue of this win USYD finished top of their Pool pipping the University of SA on for and against.
Our USYD Women's side continued their unbeaten march with a rousing 43-37 win over Victoria University.
In their second game of the day they went down narrowly to UTS 40-36 but have still managed make the Round of 16 and verse the Uni of WA on Wednesday 27 September 2017 with a place in the Quarter-Finals up for grabs.
Beach Volleyball
Our Men's Pairs battled valiantly to the very last play in both their games today but just couldn't secure a win going down to University of WA 2-0 and then later 2-1 to Curtin Uni. There is always tomorrow and another two Pool matches await on Wednesday 27 September 2017 with first-up opponents the University of the Sunshine Coast.
Fencing
Fencing are counting their medals this evening after a great show of skill and perseverance. Alex Douglas emerged to the top of podium in the sabre individual and the teams took home bronze in the foil.
Football
Our USYD Women's team, drawn in Pool A, have continued on their winning ways to remain undefeated so far chalking up big wins against the Australian Catholic University 8-0 and the Sunshine Coast Uni 7-0. Tomorrow brings two more Pool matches against the University of Canberra and Griffith University.
Our Men's side in Pool D remain solid after their first–up win yesterday because though they were defeated 4-1 by La Trobe in the morning they made amends and more in the afternoon swamping Griffith University 11 goals to nil which certainly aids their goal difference and may be helpful down the track. Next opponents are the Australian Catholic University from Canberra.
Futsal
Our USYD Men's Futsal team needed to draw deeply on all their resolve in playing three games over the course of the day. They lost the first two (7-4 to the Australian Catholic Uni and 6-1 to Melbourne) but regrouped to grind out a 4-all draw in the third against the University of Queensland. In the larger of two Pools they will line up today to contest three more games which will likely determine their fate.
Our Futsal Women's team really found their scoring mojo today after a one win, one loss ledger from the first day of competition. First up was a 7-4 victory over Deakin followed by a blow-out score of 11-3 over UNSW and lastly a 15 to nil whitewash of Charles Sturt Uni. More Pool games are in store on Wednesday and Thursday.
Handball
Our USYD Mixed Handball squad, in an eleven team competition, came up against some stiff opposition as they narrowly lost both encounters going down 21-18 to the Queensland University of Technology and then 17-14 versing UTS. Further Pool games await on Wednesday and Thursday before the finals picture is clearer.
Hockey
Our Women's team experienced mixed fortunes on Day 2 of Hockey competition just being pipped by Monash 1-0 in the closest of contests and then overcoming UNSW 4-0 to end the day on a high. Similar to the Men's Hockey there are more Pool matches to be played on Wednesday and Thursday so plenty of time to stake a claim for the Quarter-Finals.
USYD Men's tried their best to conjure up a win in falling 7-0 to RMIT and then a tense 3-0 loss to Adelaide Uni. Further Pool matches are in store today Wednesday September 27, 2017.
Netball
Our Women's netballers are showing real promise in this tournament as they finished on top in a spirited encounter with Melbourne Uni 54-42. Undefeated after two days they take to the court next against Griffith University before the serious-finals games roll around.
In the Mixed ranks our team is really stamping their authority on the opposition as they piled on the points today in downing Adelaide Uni 65-25 and then Sunshine Coast Uni 71-31. Last Pool game is up against Deakin Uni before the finals commence.
Rugby Union 7's
USYD Men's team continued to set a cracking pace as they demolished Bond Uni 52-0 then accounted for Melbourne Uni 29-0. Their third game of a massive day of competition was against the University of Canberra who prevailed in a tight contest 24-14. USYD then drew on their reserve engines to overcome Western Sydney Uni 24-12 to finish the day 3-1. Their Quarter-Final kicks-off Wednesday at 9.40am with their opponent the Australian Catholic Uni. Go USYD!
Softball
Our Women's Softball team endured a trying first day on Monday going down in all three games. Today they faced more challenges with two games virtually back to back but still managed to put in strong performances as they fell to both the University of Queensland 13-3 and then the same score line against Deakin 13-3. A number of Pool matches remain to be contested on both Wednesday and Thursday.
Table Tennis
Our USYD Men's players enjoyed a very strong first day of results on Monday taking down UTS and the University of QLD before losing to Melbourne. Today was a tough day at the office as they lined up against arch-rivals UNSW going down 8-3 and losing also to Monash 7-4. More Pool matches await and a chance to bounce back into the winners circle hopefully.
The USYD Women's squad lost to the Uni of Queensland 5-6 on day one but recovered in spades to down UNSW 10-1. Today was similar as they overcame ANU 7-4 but then lost in a spine-tingler to Melbourne 5-6. There are more Pool matches on Wednesday and Thursday morning before the games for official placings commence in earnest.
Tennis
Our Men's Tennis players are ever so close to notching their first win and it is sure to happen. Day 1 saw USYD lose in a nail-biter to Macquarie Uni 3-2. Then today it was an identical score line just losing to RMIT 3-2. Further Pool games and opportunities await.
USYD Women's players are right in the mix taking the honours in both Day 1 encounters 3.5-1.5 over Newcastle and then 3-2 over Monash. Today they accounted for the University of QLD 5-0 but then fell to Deakin Uni 5-0. More Pool matches to come so watch this space.
Waterpolo
Our Men's Waterpolo squad are revelling in a powerhouse showing at these Games as they remain undefeated after two days of intense competition. Today they trounced the University of QLD 15-5; then took down Melbourne 13-4 before squeaking home in their toughest contest yet, 5-4 over the Queensland University of Technology. Another full day of matches is on the agenda for Wednesday.
The USYD Women's team are also in a ruthless mood as they cleared the cobwebs yesterday in a 20-1 rout over Griffith Uni. Today was more of the same as they smashed Melbourne 20-0, then Deakin 14-1 and finally Maquarie Uni 17-2. A full program of more games is in store on Wednesday.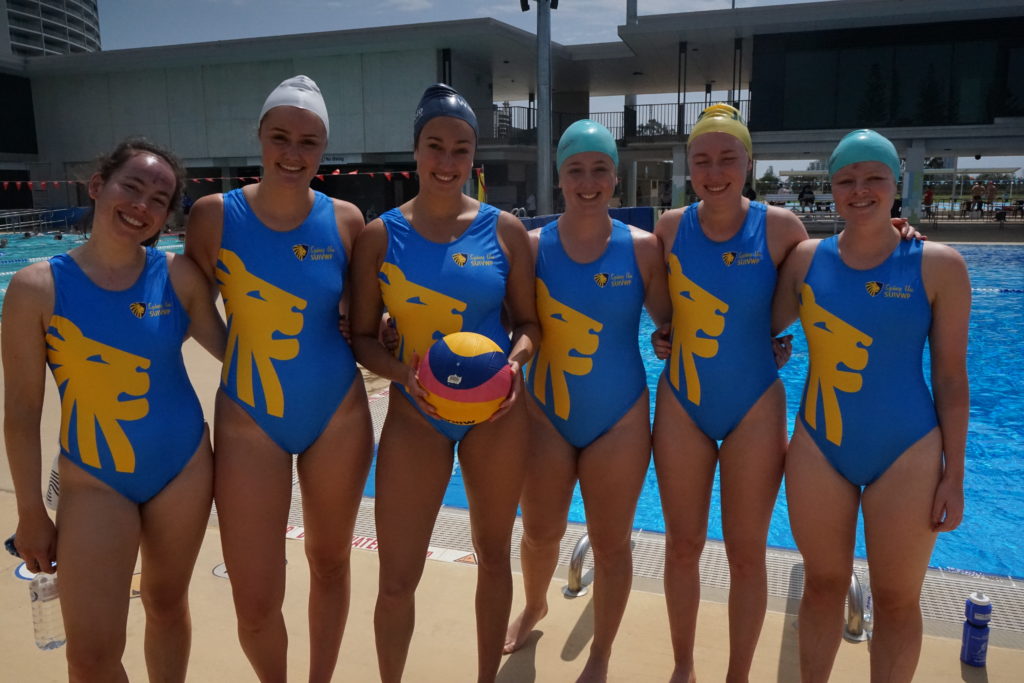 Follow our social channels for more results & live updates!
Today we are live on Snapchat! Follow sydney_uni for Day 4 action.
Day 4 saw some outstanding performances with many teams finals bound.
On the track, our athletic team's hunt for medals proved successful. Among the bounty Nicola McDermott took out gold in high jump; gold for Stevie Donougher in triple jump; silver for Josie Nichol in triple jump; silver for Bec Bennett in the 400m; Tavleen Singh silver in the 100m; silver for Joe Burgess in the steeplechase; silver for Beth Croft in the steeplechase and bronze for our men's relay team comprising of Rohan Browning, Matt Wood, Lachlan Bird and Joe Burgess.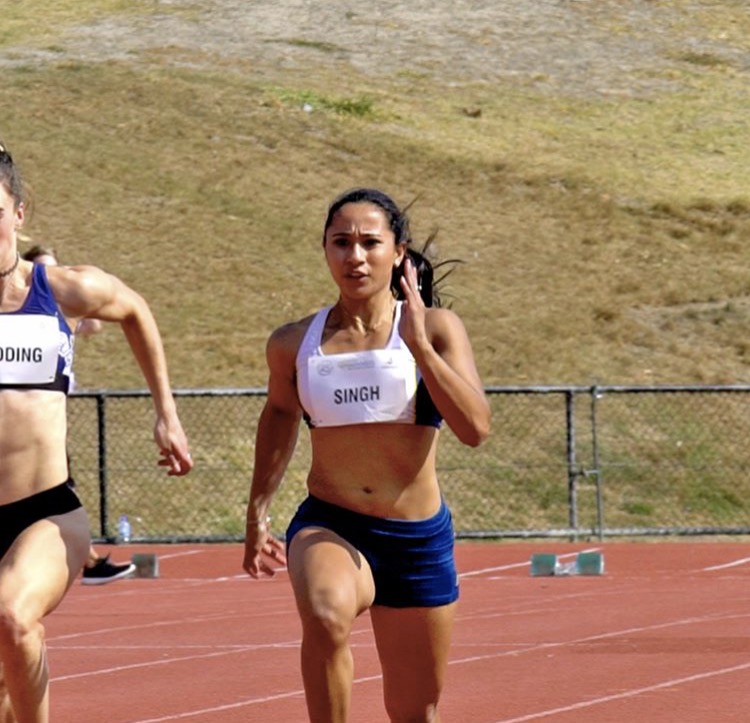 Our surfers closed their AUGs account with men's and women's claiming fourth overall after a windy few days carving up the Gold Coast.
Cricket T-20
Our Men's team have put together two remarkable wins in their Pool matches, eclipsing La Trobe 110 runs to 104 and conjuring another victory over Edith Cowan University, 109-108. USYD finished top of their Pool and will play ANU in the Quarter Finals with the first ball to be bowled at 9:00am Thursday September 28. UTS, UNSW and Bond Universities will also feature in the Quarters as winners of their respective Pools along with Griffith, Monash and Western Sydney Uni's as next highest place-getters. Anything can happen at this stage so let's hope USYD's proven grit and determination can take them through to the Semis to be played Thursday afternoon.
Rowing
The 2017 Australian University Games Regatta is being held at Wyaralong Rowing Centre on Lake Wyaralong. A large number of events are being contested from Wednesday to Friday this week and Sydney University has a strong contingent of rowers competing across all boats from Single Sculls, Pairs, Quads and right up to the Eights. Wednesday saw all the Heat 1's raced, leading to the Repechage heats with the vast bulk of the Finals scheduled for this Friday.
Women: Confirmed in the Finals are the USYD Women's Lightweight Quad Scull comprising Rebecca Humphris, Lizzie Treloar, Georgina Masters and Wallis Russell. Debbie Fox is the Coach. Their opponents are Adelaide University with their 2000m race scheduled for 8:42am on Friday. Go USYD.
Wallis Russell has a big program also making the Women's Lightweight Single Scull Final set for 10:59am Friday. This race has seven boats and all are very close in qualifying times so look out anything is possible.
Men: Similar to USYD Women rowers there are many USYD Men in action on the rowing course today, Thursday 28 September. In particular Harry Wright and Morgan Brooking are featuring in the Men's Double Scull Repechage. Their Coach is Dustyn Butler.
Mixed: One area USYD is excelling at this regatta is in the Mixed crews where we have already made two Finals to be run today, Thursday. They are the Mixed Four (Cox), Lizzie Treloar; Laura Triggs; Morgan Brooking and Jack Hanley (Coached by Anna O'Hanlon and Dustyn Butler) and the Mixed Eights, Wallis Russell, Georgina Masters, Dyone Bettega, Harriet Hudson, Marcus Britt, Andrew Judge, Jacob Bicknell, Leon Chambers, Cox: Rebecca Harrisson, Coaches: Donald McLachlan and Debbie Fox. Both races are over a 1000 metres course.
Tennis
Tennis is another of the large participation sports at this University Games with 22 teams in the Men's competition spread across 4 Pools. Our USYD Men suffered two close losses early but have gained momentum with every match beating La Trobe 4-1 and lastly the University of the Sunshine Coast 5-0. These two solid wins have propelled them into the Repechage matches Thursday morning where we face Newcastle Uni. At stake is a place in the Quarter-Finals to be held from 12:30pm Thursday.
Our Women tennis players are revelling in the QLD spring sunshine advancing to the Quarter-Finals undefeated and top of their Pool B with 28.5 points. Similar to our USYD Men the longer the tournament is going the better they are performing with stirring 5-0 victories over both Queensland Uni and Deakin in their last Pool matches. They will play the Queensland University of Technology in the Quarters commencing at 10:15am Thursday. From everything we have seen so far if they can reproduce that form they would be favourites to advance to the Semi-Finals set for 2:45pm Thursday.
Touch
Another large participation sport at Australian University Games is Touch Football. The games are fast and frenetic. Our Men's side is enjoying a successful competition to date beating UNSW 9-4; Queensland Uni 8-3; University of the Sunshine Coast 9-1 and Monash 7-3. There were only two losses en route as we qualified for the Quarter-Finals versing the University of Newcastle at 10:00am on Thursday September 28. If we can prevail over Newcastle the Semi-Finals will be played early Thursday afternoon.
Our Women's Touch side are carving a path straight to the Semi-Finals due to played on Thursday at 3:00pm. Undefeated at this juncture the final Pool game for USYD is against Griffith Uni on Thursday morning. Our ladies have showed blistering form in beating Monash 14-1; Melbourne 12-5 and UNSW 6-2. The closest win was against Queensland University of Technology 5-4 who are a Uni proving to be tough adversaries in a number of the team sports. USYD is assured a Semi-Final berth on their wonderful results to date with their opponent still to be decided.
Our Mixed Touch squad have been playing lots of games with the total number of teams competing being a healthy eighteen. USYD have managed 3 wins and 4 losses with solid wins against Notre Dame 11-1 and Western Sydney Uni 8-3. Unfortunately we haven't qualified for the Quarter Finals however we still have further matches to play, mainly Adelaide University on Thursday.
Ultimate
Originally known as Ultimate Frisbee but now just Ultimate, this is one of the most entertaining, skilful and highly contested events at Australian Uni Games with 14 Uni's participating at the Gold Coast. Our Men's team are flying high with four straight wins in the first three days and just one scrape of paint loss to Queensland University of Technology on Wednesday going down 11-12. A great result was on Tuesday knocking over the similarly undefeated Melbourne Uni at that stage 13-10. The last Pool match for USYD is against Wollongong Uni on Thursday with the Semi-Finals and Medal games all set for this Friday.
To underline the popularity of Ultimate as a team sport the Women's draw has 22 teams vying for a medal with USYD fielding two squads, one in Pool B and one in Pool C. Our Pool B team has 4 wins and just one loss falling to Queensland Uni 13-4. The four wins were decisive ones with one score being 15-0 against Swinburne University of Technology.
Our Pool C team are also setting the pace with three consecutive wins to be equal Pool leaders at this point with games against La Trobe and Deakin Universities to come. The match up with Deakin will be crucial in regards to Pool placings as they are also undefeated at this stage. Ultimate Semi-Finals and Finals are set for this Friday so let's hope both our teams are in the mix for a medal.
Volleyball
Our Men's Volleyball team are enjoying an outstanding competition to date winning all five Pool games to finish top of Pool B on 15 points. They accounted for the University of SA 3-0 and the University of Southern QLD 3-1 on the first day of competition and overcame UNSW 3-1 on Wednesday. USYD haven't looked back in their march to the Quarter-Finals where they face Flinders Uni at 9:00am Thursday 27 September. If they progress and the signs are all positive the Semi-Finals are scheduled for Friday.
Our Women's squad are also looking in mighty good shape having only dropped one game, on Day 1 of competition against the Queensland University of Technology 3-0. Ever since they have been on a roll with a string of victories over Monash; Uni of Sunshine Coast ; UNSW; Melbourne Uni ; Uni of WA and UTS who they beat 3-1. A win against Notre Dame in their last Pool game on Thursday will see them cement their Semi-Final berth to be played on Friday.
Waterpolo
Our Men's Waterpolo squad remain undefeated and look in imposing form as they beat UTS 5-1. They will play the first Quarter-Final of the day on Thursday 28 September against Bond University. The Men's Semi-Finals are slated for Thursday evening.
The USYD Women's team encountered their first defeat of the tournament going down to arch-rivals UTS 6-1. Hopefully that is the loss they had to have out of the way now! Earlier in the day USYD demolished the University of the Sunshine Coast 33-1. Our Women's team advance to the Quarter–Finals to verse the Australian Catholic Uni at 11:00am. The Semi-Finals are scheduled for Thursday evening
It's Finals Day at the 2017 Gold Coast Australian University Games and plenty of Sydney University athletes are moving it in the hope of winning a Medal. Every effort can contribute to our overall pennant score as a University team and to begin a huge congratulations to the Sydney Uni Athletic Club's girls who have won the Australian Uni Games for the 7th consecutive year!
Here is some more of what we know
Australian Rules Football
Our Men's team have missed out on the semi-finals after going down to the Australian Catholic University on Thursday 66-27, however they will play-off against UTS on Friday for 5th/6th Placegetters bragging rights.
Badminton
Unfortunately our Men's team lost their semi-final against Monash 6-3 however they have progressed to the Bronze Medal match versus Queensland Uni on Friday.
Uncannily our USYD Women's team also went down to our nemesis in this tournament, Monash 6-3 in their semi-final but similarly will have a chance for a Bronze Medal when they play UNSW on Friday.
Baseball
It is too early to call however we are in the mix to qualify for a Medals Match currently sitting equal 4th in the Pool with one last-pool match to go on Friday morning against Queensland University.
Basketball
Our men are in the playoff between 7th and 8th on Friday against the University of SA, while our women are in the playoff for 5th or 6th against the University of Sunshine Coast on Friday.
Beach Volleyball
Men's Pairs: Unfortunately we didn't quite make the Quarter-Finals however our team have given their all and lapped up the experience with one last hurray final game on Friday against Queensland University of Technology.
Cricket T-20
Our Men's team were overrun by UNSW in the semi-final encounter 164 runs to 113 but will compete for the Bronze Medal against UTS on Friday.
Cycling
Women's Road Race: Georgia Whitehouse has ridden herself into the ground to grab 2nd place and the Silver medal in testing warm conditions. Huge congratulations Georgia. Ella Scanlon-Bloor finished strongly in claiming 6th place. Both Georgia and Ella will also start in the Women's Criterium on Friday.
Women's Pairs Time Trial: Whitehouse and Scanlon-Bloor have combined to win Gold in a time of 40:01:00 ahead of the University of Melbourne and University of Queensland pairs respectively. What a great result!
In the Men's Road Race, Robert Car, USYD finished a strong 7th place. In the Men's Pairs Time Trial our Simon Thomson and Robert Car held on for 5th in a time of 36:53:00. Congratulations guys! Nine USYD Men's riders are in the start list for the Men's Criterium on Friday.
Our women also managed 2nd in the individual time trial, while our men came in 5th, 6th and 8th.
Fencing
Our USYD Men's Individual Sabre fencer, Alexandre Douglas has come out on top in a very tough competition to claim the Gold medal ahead of the other medal winners from the University of Adelaide and UTS. Congratulations Alexandre on a magnificent performance.
In the Men's Individual Foil, Jesse Morris, USYD has ended an arduous campaign with a Number 2 Ranking and a Silver medal behind the University of Melbourne competitor. Congratulations Jesse on a wonderful result. Patrick Daley, USYD, finished 4th.
In the Men's Epee, Patrick (Patty) Daley finished a strong 8th place in a field of 35 competitors.
Our Men's trio took the overall Bronze medal in the Teams Foil with Daley, Douglas and Morris and the Bronze in the final rankings of the Men's Teams Sabre with Douglas, Daley and Falconer-Adams.
Our Women's Individual Foil fencer, Beatrice Hay has taken possession of the Gold medal with the QLD University of Technology and RMIT competitors filling the minor placings respectively. A magnificent win Beatrice.
Football
Our Women's team have advanced to the Semi-Final stage on Friday where they will play Monash after they performed brilliantly to trounce Western Sydney Uni 4-0 in their Quarter-Final encounter.
We remain in strong contention for a medal.
Our Men's team suffered a heartbreaking loss in their Semi-Final losing 3-1 to UTS after overcoming UNSW in their Quarter-Final. La Trobe and UTS will play in the Gold medal match.
Golf
The Men's Golf faced some challenging winds during their rounds however the standouts for the eight person strong USYD team after two rounds were Michael Li and Hunter Hordern. Right from the first round Li and Hordern were climbing the leader's board to be 5th and 6th respectively after two rounds in a big field. The whole USYD team is performing strongly.
Judo
In a very competitive tournament our USYD team have finished a mighty 4th place in the final overall point score which is a terrific accomplishment. Competitors compete in specific weight divisions. The University of QLD were the overall winners.
Tennis
Our USYD Women's team are on fire having made the Gold Medal match against UTS on Friday after beating Queensland University of Technology 4-1, in their Quarter-Final and a 4-1 win over RMIT in their Semi. A real chance!
Our Men's tennis team lost to UTS 3-1 in their Quarter-Final but have another match against Melbourne Uni on Friday morning with a shot at the 5th v. 6th playoff at stake for the Winner.
Ultimate
Our Men's side are at the centre of the medal action as they take on University of Queensland in their semi-final at 9:00am Friday. The other semi is between UNSW and ANU.
The Women's USYD team are equally as hungry for success as they will also contest the semi-finals playing UNSW with the other semi between Deakin and the University of QLD.
Volleyball
Our Men's Volleyball team fought bravely the whole way but eventually went down 3-1 to Flinders University in their Quarter-Final.
Our Women's squad are very much still in the hunt for a medal when they play Melbourne Uni in their semi-final on Friday. The other semi-final is between Queensland University of Technology and UNSW. Fingers and toes crossed.
Waterpolo
Our Men's Waterpolo squad are the pacesetters charging through Bond Uni 16-4 in their Quarter-Final and then toughing it out 5-4 over water polo stalwarts Newcastle in their semi–final showdown. This has pitched USYD into the Gold medal game on Friday versing the Queensland University of Technology. Bring it On!
Despite every sign looking positive unfortunately our Women's side went down narrowly to UNSW 5-7 in their semi-final mega match-up. USYD had looked unstoppable in their Quarter-Final victory over the Australian Catholic University 9-2. USYD will now play Queensland University of Technology in the Bronze medal match on Friday.
Coming home with 6 overall national championship pennants, The University of Sydney (USYD) has placed third in the chase for the title of the Australian Uni Games Overall Champion for 2017.
The 2017 contingent secured first place finishes in the following disciplines: Men's Golf; Women's Soccer; Women's Athletics; Men's rowing, Women's rowing and Women's Kendo.
Sydney Uni congratulates all competitors for their efforts throughout the week, particularly Melbourne University who secured second (7 pennants) and the University of Technology in claiming first (8 pennants).
All teams were determined to grab every last point in the lead up to the overall tally
Women's Soccer
After a long week the girls were tested in a closely fought semi encounter, beating Monash by a single goal (1-0). Coming up against Melbourne Uni in the final, the teams were all tied up 0-0 at regulation with neither side giving an inch. In a spectacular penalty shootout, the lionesses roared to a 4-3 victory, securing the coveted gold.
Women's Tennis
Undefeated on their path to gold, our Women's tennis team gave UTS a run for their money in the final but eventually went down 3-1 despite their efforts.
Women's Ultimate Frisbee
After outclassing UNSW in the semis, 10-6, women's ultimate took home silver after being pipped at the post by the University of Queensland in their final, 12-10.
Women's Volleyball
Going down in their first set to Melbourne, our women's volleyball team regrouped to win the next 3 sets of their semi and progress to the all important gold medal match against the Queensland University of Technology. A gruelling 2 sets behind in the final, the girls dug deep but couldn't quite make the fairytale finish claiming silver, 3-1. All in all a great fight after an intense week of competition.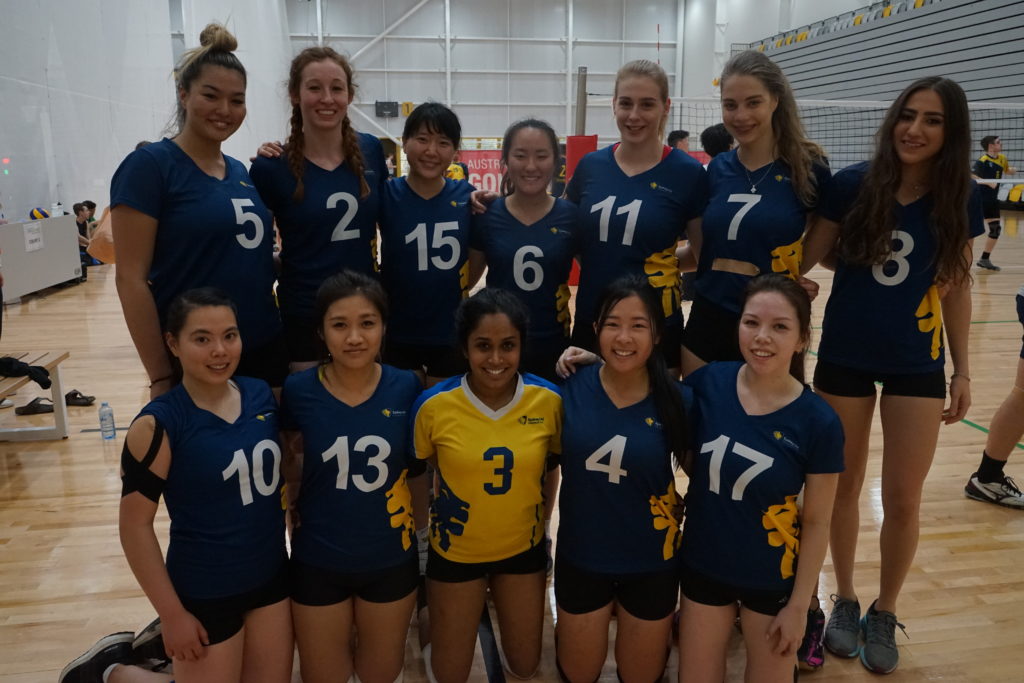 Men's Water Polo
Our men experienced a dream run leading to finals, entering their gold medal match undefeated but in a tough showdown came undone against the Queensland University of technology, 3-1.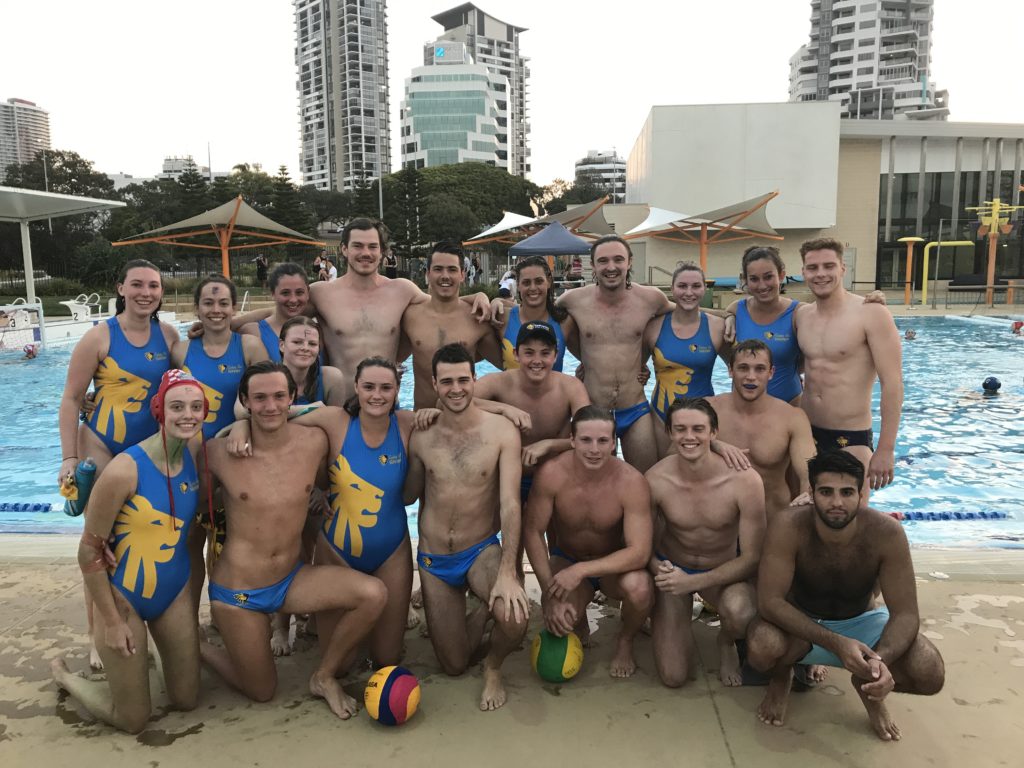 All Results accessed here.
Follow our social channels for more results & live updates!
Contact Us
For any other information on the 2017 Australian University Games, please contact – SUSF Club Development