Hannah Buckling has had an incredible water polo career with Sydney University in both the national women's league and the Australian team (the Stingers) at Olympic Games and World Championships. Hannah spoke with Graham Croker about her career and what the future holds.
You've been named in the Stingers Olympic Games team for Tokyo. The Stingers made it to the quarter-finals in Rio in 2016; can they go further in Tokyo?
We had an incredible squad training, so it's an honour to be selected for the Olympic team, along with Sydney Uni teammates Keesja Gofers and Tilly Kearns. Our goal is to play to our potential. We have not had international games in over a year now, so it is difficult to know where we stand in the world. Despite that, we are training hard and making strides as a team. At the Olympics, anything can happen, but with a bronze medal at our most recent tournament, the 2019 World Championships, we are confident as a team going into the Tokyo Olympics. Keesja and I were at the Rio de Janeiro Games, so we've experienced the atmosphere, it was incredible.
You have a science degree from Sydney University, and you're now undertaking a Doctor of Medicine. How is that progressing in your busy schedule?
I think I may have the record for the longest medical degree, but I am moving slowly and steadily towards graduation. The goal is to complete my third year of study when I return from Tokyo, being back at Uni the day I am released from hotel quarantine! Then, if all goes to plan, I will graduate at the end of next year, 2022.
How did the COVID-19 pandemic affect your training and study programs?
When COVID-19 hit, and it was announced that the Tokyo 2020 Games would not go ahead, I had to make some quick decisions regarding my studies. I had planned to defer my studies for 2020, but with the postponement of the Games, I was fortunate enough to return to my degree and complete nearly a year between then and now. I am so grateful that the Sydney Medical Program was so flexible in enabling me to do this and allowing me to pursue my Tokyo Olympic Dream.
You are a member of Sydney Uni Sport & Fitness' Elite Athlete Program. Has it been of assistance with your sport and studies?
Sydney Uni Sport & Fitness' Elite Athlete Program (sporting scholarships program) has been invaluable in supporting my study and sporting pursuits. The support is unending, and it's one of the many reasons I am proud to be a student at Sydney University.
You've played more than 150 internationals for the Stingers. That's a wonderful record. What are your sporting aims in the coming years, and do you have 200 internationals in your sights?
The clear focus at the moment is the Tokyo Olympic Games. I believe I was meant to play my 200th international cap at the Tokyo 2020 Olympics, however with the postponement of the Games and our inability to travel to play internationals, I may fall just short of that 200th game. Nevertheless, it is always such an honour to put on the green and gold, whether it is your first or 200th game. After the Olympics, I will return to full-time study and put my efforts into graduating from Medicine and beginning my career as a doctor. While I don't think Paris is on the cards for me, I will continue to play for Sydney University in the Australian Water Polo League. I love playing with my club team, so this provides a great way to stay connected to the sport with a slightly lesser time commitment!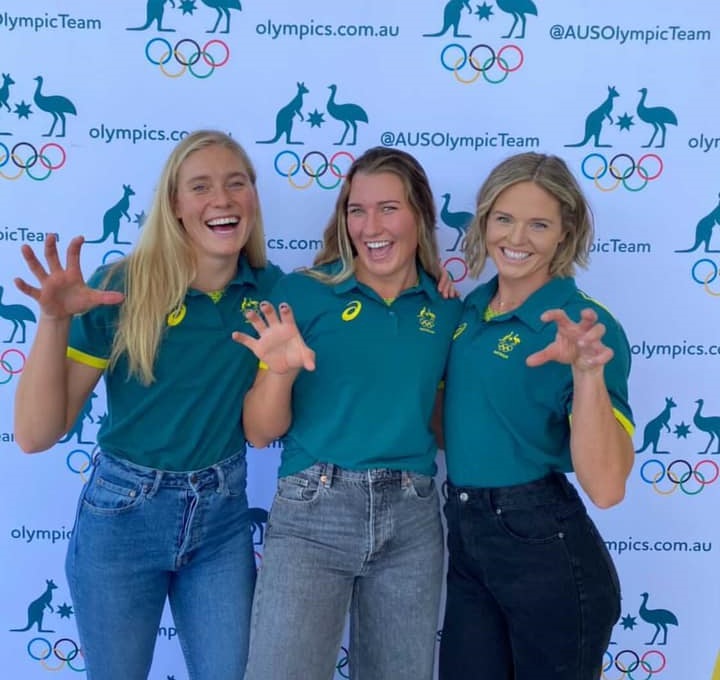 What are some of the more memorable moments in your long career, and how many countries are stamped on your passport?
My water polo career is filled with memorable moments; playing overseas in US college at USC and in Greece for Olympiacos, travelling the world with some of your best mates and winning a silver and bronze medal at the 2013 and 2019 World Championships, respectively. I am so lucky to have a very full passport, and I couldn't count the number of places I have had the privilege of visiting. While I have almost completed the world tour of swimming pools, there are so many amazing places I would love to return to and explore more.
Marching out at the Rio Olympic Opening Ceremony in 2016 was perhaps my most treasured experience. I felt so much pride walking alongside my teammates, thinking of all the Australian Olympians who had walked before us. There is truly no feeling like it. After the years of early mornings, kilometres of swimming and hours of training that we put into achieving our dream of becoming an Olympian, the Opening Ceremony instils immense pride in representing Australia at the Olympics.
What is your connection with the Minerva Foundation?
I have been a member of the Minerva Network since 2018. This is an incredible network supporting elite female athletes in their pursuits both on and off the sporting field. They provide mentoring, collaboration and sponsorship with Australian businesswomen to give opportunities for growth in leadership, networking and career goals. I am fortunate enough to be mentored by Dr Sharron Flahive. Sharron has years of experience in Sports Medicine and is an incredible support to me as I tackle balancing Medicine and water polo. To have a mentor with such an intimate understanding of the challenges I face in Medicine and sport has been invaluable.
Australian female water polo players pushed for Olympic representation when we hosted the Sydney Games. Have you noticed a rise in participation and standards across a range of women's sports since then?
Water Polo was one of the last sports to gain gender equality in the Olympics, with men's water polo being introduced to the Olympics 100 years earlier. In many ways, the 'Golden Girls' paved the way for female athletes, and I will never take for granted the opportunity I have to represent Australia at the Olympics. It has been amazing to watch the growth in women's sport in Australia over the past few years. From the Women's Big Bash League to the WAFL, the interest in watching women's sport is rising. Yet, there is still so far to go.
In my lifetime, I would love to see the growth of women's sport to match the men, both professionally and through grassroots sport. The lessons I have learned and the opportunities I have gained from playing sport have been priceless and not only apply in the pool but can be transferred to all other areas of my life. We have already seen a rise in young girls involvement in sport, and I hope this positive impact drives more growth in the future.