The success of a recent intercollegiate rugby sevens competition provided further evidence that Sydney University Football Club  (SUFC) is at the forefront of growing and supporting women's rugby.
Played at St John's College Oval, the competition saw 120 players taking part, with colleges providing multiple teams. Isabella Randall, Associate Dean (Sports and Programmes) at St John's College took the lead in hosting and organising the highly successful tournament, which was won by St Andrew's College.
Women's rugby sevens is one of the fastest-growing participation sports in the country and SUFC has been well in the mix since the appointment of Chris Delooze as Director of Women's Rugby and Junior Development 18 months ago.
Despite the setbacks posed by the COVID-19 pandemic, soon after his appointment, SUFC, renowned for its XV a side programme, has been thrilled by the numbers turning up to play sevens. "The growth in the sevens domain speaks for itself, with the club now competing in the Sydney Shute Shield sevens competition with three teams, where in 2019 the club was only partially involved," Delooze said. "We're also looking to develop another side competing under the banner of the University."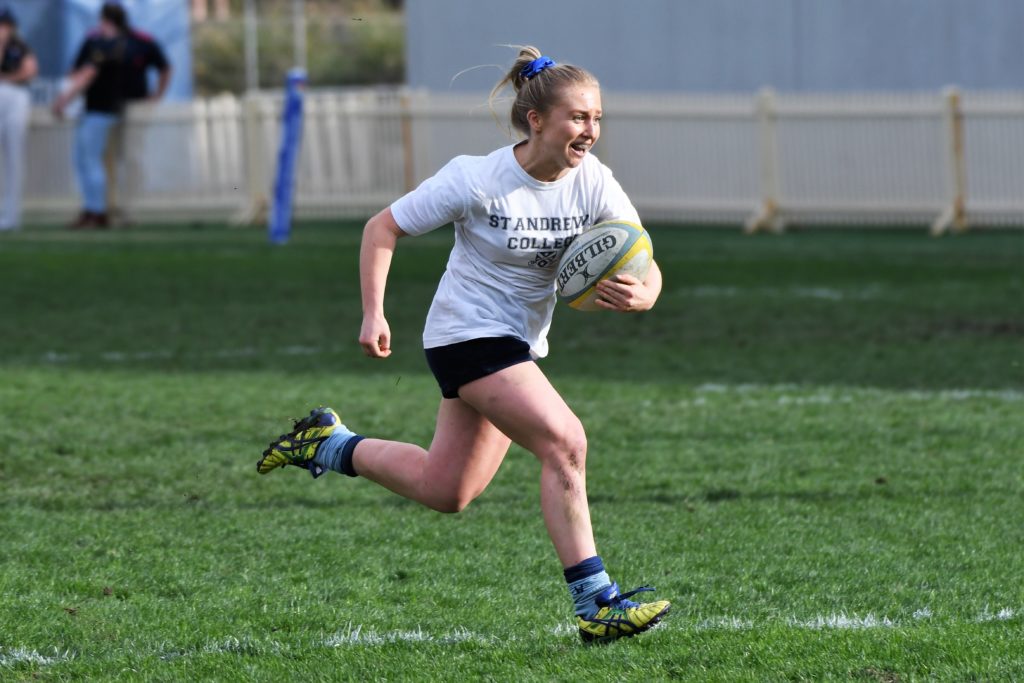 Delooze said SUFC has 65 registered female players and fields two teams in the Jack Scott Cup XV a side competition (the only club in Australia to compete in a first grade competition with two sides), along with the three sevens teams competing across first and second division. And this year, for the first time, SUFC has an Under 18 XV a side team and competed in the U17 sevens State Championships.
"In addition to this, we have 19 SUFC representatives in the Super W rugby competition, the national women's competition, and three players in the Australian sevens squad who were all bidding for a spot at this year's Olympic Games – Jakiya Whitfield, Lori Cramer and Piper Duck – who recently competed in the Oceania tournament for selection," Delooze said.
He puts the growth of the SUFC program down to the establishment of three new academies and training facilities in 2020, and is looking to develop further with a home for Inner West women's rugby for kids aged 6 to 16. "This programme is aimed at creating opportunity and community, using rugby as a vehicle for young girls looking to participate in sport," he said.
"We're continuously developing our Inner West Sydney Gold Cubs, the North-West Sydney Red Cubs, based at Barker College, and the Central West Blue Cubs, and doing this with our affiliation with schools and local club programmes, to increase participation and look for emerging talent.
"The ongoing program should provide opportunity for young players from the country and city to compete in strong competitions and go on to the representative ranks.
"Within the University and Australian pathways, there is the Aon Uni sevens competition, where student athletes mix with Australia's most talented female rugby players competing at the highest level in Australian sevens. This year we were one  of the youngest sides and finished third overall behind 2021 winners Bond University.
"And this year Sydney University had two players make the top sevens All Stars side – Piper Duck (20) and Bridget Clarke (18) – both members of SUSF's Elite Athlete Program.
"More importantly, Sydney Uni Sport & Fitness supports the program by providing educational opportunities for our female student athletes to flourish well beyond their years in the sport." Education and future development is a high priority within the programme for the Director of Women's Rugby and Junior Development.
It's been a welcome return to the campus for Delooze, who played Colts for SUFC in 1999 and 2000 while embarking on a Bachelor of Human Movement and Education degree. After  a short stint with Randwick, he returned to Sydney University and went on to represent Australian Universities in 2005 touring England and Wales, which resulted in a career with Munster Rugby Club in Ireland. While in Ireland he also completed his Master of Science degree in Sports Performance from the University of Limerick, where he received First Class Honours.
Since hanging up the boots, Chris has coached at all levels of  the game in both Ireland and Australia in both sevens and XVs. In rugby parlance, his appointment as SUFC's Director of Women's Rugby and Junior Development has been a well-timed move.